Dittypalooza!
Mystery Spot Antiques presents….Dittypalooza!
Small-town Catskills Vintage Shop as Musicians' Muse!
Phoenicia, NY's Mystery Spot Antiques Celebrates 12th Season with Slate of Original Rock Star Ditties!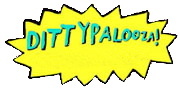 Tommy Ramone & Claudia Tienan (Uncle Monk), Holly Miranda, Howe Gelb (Giant Sand),  Alessi Laurent-Marke (Alessi's Ark), David Fair (Half Japanese), Ambrosia Parsley (Shivaree), and Steve Wynn (Dream Syndicate/Baseball Project) write Odes to The Spot. (With more surprises to come!)
"The Mystery Spot Spot" by Ambrosia Parsley (listen here)
"Mystery Spot" by Alessi's Ark (listen here)
"Mystery Spot" by Steve Wynn (listen here)
When vintage/vinyl shop proprietress Laura Levine started to plan the opening of the eleventh season of her popular Catskills odditorium, Mystery Spot Antiques, she decided to try something different. Levine – a renowned music photographer – turned to her circle of musician friends and invited them to contribute ditties in celebration of the Mystery Spot. And so Dittypalooza! was born.
The Ramones' Tommy Ramone and Claudia Tienan (Uncle Monk), Holly Miranda, Howe Gelb (Giant Sand),  Alessi Laurent-Marke (Alessi's Ark), David Fair (Half Japanese), Ambrosia Parsley (Shivaree), and Steve Wynn (Dream Syndicate/Baseball Project) all generously penned and recorded Odes to The Mystery Spot. (And there are more surprises yet to come).
Mystery Spot Antiques will release a new "Mystery Ditty" on their website once a month, all season long. Launching the series in 2011, Uncle Monk (Tommy Ramone and Claudia Tienan), Holly Miranda and Ambrosia Parsley each penned and recorded love songs to their vintage muse.
Now it's 2013 and we've got a whole new slate of ditties in the can!
Our good pal Steve Wynn immediately hopped on board the Dittypalooza! train to whip up a great little theme song for The Mystery Spot. Steve and Mystery Spot proprietress Laura Levine first met when she photographed the Dream Syndicate on a winter's night in New York City in 1983. In fact the next night, after their NYC debut at the Mudd Club, there was such a blizzard that the band ended up crashing in her Chinatown apartment. We've been great friends ever since.
Says Steve…."Necessary confession:  I have yet to visit the mystery spot though I have seen pictures and heard all about it from Laura who has been my pal for more than 30 years.  So, I feel I can connect to the vibe and my song hopefully gets across the feeling of wistful, playful, surprising and, yes, mysterious wonders to be found inside.  I hope to find out if my unseen impressions were in the ballpark when I visit sometime soon."
Steve Wynn was a founding member of the Dream Syndicate who released the influential debut album "The Days of Wine and Roses" which came out in 1982. He is currently on tour with a reunited version of the band, performing that very album though the full circle has also included a prolific solo career and stops along the way with side projects like The Baseball Project, Danny & Dusty and Gutterball, amongst others.  He lives in Jackson Heights, New York.
You may have heard that the Dream Syndicate is playing their first North American show since 1988 at the Wilco Solid Sound Festival at Mass MOCA this Saturday June 22nd. You're going, right?
Here's a photo from our first session (of many to follow over the years), and a more recent photo of Steve next to the original photo at an exhibition of Levine's work at the Steven Kasher Gallery.
http://www.stevewynn.net
http://www.thebaseballproject.net
http://www.thedreamsyndicate.com
Alessi Laurent-Marke wrote and recorded her sweet ditty about the Mystery Spot in her London bedroom.
Says Alessi: "I found the chords on the guitar immediately after looking through the beautiful photographs of the Mystery Spot's nooks and crannies. I was blown away at just how fast the song revealed itself – – it must be down to the Mystery! I tried to imagine the scent and atmosphere of the shop, its surrounding environment and how the floorboards sound as visitors wander around. A gem."
Lady L, I want to ring that bell
It hits the spot, the only world in the world
We've got a place for living well
Packed up to the gills, to the brim, to the core
Unlike any nest, temple, church nor a store
We come running, longing for more
To its oddities, curiosities, stories to tell
We better listen well!
Alessi first began writing and performing at the age of sixteen, and was quickly signed to Virgin/EMI, recording her debut album Notes from the Treehouse (produced by Mike Mogis/Bright Eyes) when she was eighteen. In fact, Mystery Spot proprietress/artist Laura Levine was commissioned by the record label to paint the album's cover art, which is how she and Alessi first met.
Travel, adventure and personal revelation mark the body of work by Alessi Laurent–Marke. Now the ripe old age of 22, having performed with Robyn Hitchcock and toured with Laura Marling and Mumford and Sons, Alessi's newest album, The Still Life, is a work both lucid and heartbreakingly lovely, a sonic landscape that roams a wide range of emotions, with (as the songwriter explains), "Nature and love, as common threads".
'The Still Life' is out now in the U.S via Bella Union.
"The song was written by thinking of our experiences at The Mystery Spot. We were going for a musical vignette, to try to capture the place in a few words. Claudia and I hope people enjoy the song and that they come visit the store." – Tommy Ramone
Tommy and Claudia are no strangers to The Mystery Spot. They've been regulars for years, picking up some choice vinyl for their record collection; their free concert on our front porch a couple of summers ago, drawing fans from near and far.
Uncle Monk is an indie-acoustic duo featuring founding Ramones member Tommy Erdelyi (Ramone) and Claudia Tienan. Their music is rooted in old-time and bluegrass influences blended with an indie sensibility. Their critically acclaimed CD is titled 'Uncle Monk' on Airday Records. They are currently finishing up their next record which will be available later this year. More at www.unclemonk.com.
"When I lived in Brooklyn and things got to be too much, too loud or too overwhelming for me I would escape upstate to my manager's house in Phoenicia. That's where I met the wonderful Laura Levine and discovered the magical Mystery Spot! This isn't like the 'Mystery Spot' they had in Michigan when I was little. (A room with one chair sitting on one leg…ooolala). This is a place you can get lost for hours! I could spend days in just the vinyl room alone. Now that I live in L.A. I really miss being able to run upstate, now I have to run to the desert where the antique store owners are a little creepy and they never have vinyl cause it would melt. So when you go to the Mystery Spot and you get some amazing vinyl or vintage clothing or whatever, give Laura a high-five for me. xx Holly"
Holly Miranda first began playing in New York at age 16, when she dropped out of high school in Michigan, told her mom she was going to visit her sister in New York for a few weeks, and never turned back. Whether solo or with her band, she's become an artist consistently able to mesmerize with her range as well as her songs. She just returned from a month in the desert recording for her new album, the follow-up to her stunning debut, The Magician's Private Library (produced by TV On The Radio's Dave Sitek). More at www.hollymiranda.com.
Here's a video of Holly Miranda and Ambrosia Parsley performing Buddy Holly's True Love Ways on our porch:
"The Mystery Spot Spot" by Ambrosia Parsley (listen here)
(Written, produced, performed and recorded by Ambrosia Parsley and a bottle and a half of french rose' at her kitchen table.)
The newest contribution to Dittypalooza! comes from our friend, neighbor and longtime supporter-of-the-Spot Ambrosia Parsley. Her music has been featured in Quentin Tarantino's Kill Bill ("Goodnight Moon"), she's been flown to Moscow to perform for a multibajillioniares' private party, and she's been profiled in Vanity Fair. She's also played free concerts on our humble porch (and baked cookies for entire audience),  has single-handedly kept our vintage maxi-dress section in the black, and roadies her own stage gear. But don't be fooled by her gorgeous face and enchanting voice — the girl cusses like a sailor! So cover your young ones' ears and take a listen to this latest, greatest, Mystery Spot Ditty.
Says Ambrosia, "We hope this little song of love and devotion will persuade Ms. Laura to stop yelling at me from her perch on the front porch when I walk by, reminding me how my son broke a cereal bowl that once belonged to Moses his self. Such are the things you'll find at the Spot, the most magical and strange vintage shop on earth (tho if you're looking for 50s peek-a-boo nighties, you best get up pretty early in the morning, 'cause most make their way to my closet in a flash)."
Ambrosia Parsley of Phoenicia, NY, is a recording artist and songwriter, mother, barber, moonshiner, clothes horse, and now, internationally renowned jingle writer. In the afterglow of this Mystery Spot spot, she hopes to expand her ad pursuits well beyond the vintage horizon, into pest control, maybe furniture liquidation. After serving as the voice and principal songwriter for Shivaree for four records over nearly a decade, Ambrosia is currently at work on her solo debut. Details can be found at http://www.pledgemusic.com/projects/ambrosiaparsley
More about Mystery Spot Antiques and Dittypalooza!
Long a favorite haunt of vintage clothing lovers and vinyl diggers, Homer & Langley's Mystery Spot Antiques is kind of vintage store you didn't think existed anymore. Part museum/part odditorium, every nook and cranny of its seven rooms in a Nineteenth-century former Main Street hotel is packed to the rafters with 100% vintage goodness.  Tucked away in the tiny Catskills hamlet of Phoenicia, NY, the shop was named after the world's most famous hoarders – and role models – the Collyer Brothers (who were tragically crushed under their 136 ton accumulation of "collectibles"). This unusual and beloved "shrine to clutter" is home to an amazing array of hand-picked vintage clothing, Forties housewares, antiquarian art books, Rusticalia, mid-century lighting and found objects. Don't take our word for it:  Country Living Magazine described it as "a love-at-first-sight wonderland of  oddball collectibles, vintage clothing, and objects d'art."
Proprietress Laura Levine, a Soho-based artist, filmmaker and photographer, opened the Mystery Spot in 2001 as an outlet to contain the overflow of vintage items collected at weekend yard sales, flea markets and country auctions. Every weekend she brings in stacks of vintage vinyl dug out of a recently purchased estate collection of over 15,000 used records and armfuls of killer vintage clothing fresh from estate sales.
For twelve years, through word of mouth, The Mystery Spot has become the "must-see" destination for thrifters, fashionistas, record diggers, curiosity seekers, tourists, supermodels, musicians, designers, prop stylists, and even a famous face or two. (Customers include Karen O, Richard Hell, Yo La Tengo, Kate Pierson, Michael Gira, Amy Sedaris, and Kelly Cutrone). Even when the doors are closed, customers with a yen to shop at 3 AM are welcome to dig through the dollar record bins and famous Yard Sale in a Box on the front porch, with an honor money drop at your service.
Located in the heart of the Catskills State Park, the tiny creekside hamlet of Phoenicia – named one of the "Top Ten Coolest Small Towns" by Budget Travel magazine last year – is well-known to New Yorkers as a favorite weekend escape for its hiking, fishing, camping, and tubing, as well as shopping, art galleries, Festival of the Voice and stacks of homemade pancakes at Sweet Sue's. Despite the devastating flooding and damage caused by Tropical Storm Irene when it struck the village last summer – turning Main Street into a raging river – Phoenicia has fully recovered and is more inviting than ever.
Dittypalooza! is an offshoot of the Mystery Spot's legendary Music for Front Porches series, a series of free afternoon concerts on the shop's Main Street porch which Levine has been hosting since 2009. Performers have included Mercury Rev and Dean & Britta, Laura Cantrell, Uncle Monk, Ida, Ambrosia Parsley, Life in a Blender, Steve Almaas, Gail Ann Dorsey, Two Dark Birds and Holly Miranda.
How did Dittypalooza! come about? Well, a few years back, musician David Fair of Half Japanese sent his then-penpal (now real-life friend) Laura Levine a package chock full of his artwork and CDs. Tucked in the bottom of the box was a mysterious CD labeled "Mystery Spot." Turns out Fair had written a genius little song about the Mystery Spot, which blew her mind and started the gears turning. It seemed too good an idea not to expand upon, and Levine immediately started to think of some other favorite musicians who might be inspired to write a Mystery Ditty. The goal? An entire album!
In addition to her burgeoning career as a junkmonger, Laura Levine is known primarily as a highly regarded photographer and documentarian of the downtown NYC music scene in the 1980s and early 90s. She was the chief photographer and photo editor of the New York Rocker and her iconic music photography portraits have appeared in countless magazines, album covers and books, as well as dozens of museum and gallery exhibitions. Her primary focus has since evolved into a cross-disciplinary visual practice spanning painting, illustration and animation to directing music videos and documentary film. She has published three children's books and made her directorial debut at at the Sundance Film Festival.
Levine's photographs have most recently been exhibited at the Museum of Modern Art, the Brooklyn Museum, the Steven Kasher Gallery and the Annenberg Space for Photography and are in the collections of the Smithsonian Institution's National Portrait Gallery and the Museum of Fine Arts, Houston.
Mystery Spot Antiques
72 Main Street
Phoenicia, NY 12464
(845) 688-7868
Open May – December, weekends & holidays 11 – 5, with expanded hours in the summer
Summer Hours starting in July : Thursdays – Mondays, 11 –  5
(It's always best to call first if coming from a distance.)
info@mysteryspotantiques.com – email
www.mysteryspotantiques.com – website
www.mysteryspotvintage.com – blog
www.dittypalooza.com
www.facebook.com/mysteryspotantiques – Like us on Facebook!
Alessi's Ark: www.alessisark.com
Uncle Monk: www.unclemonk.com
Holly Miranda: www.hollymiranda.com