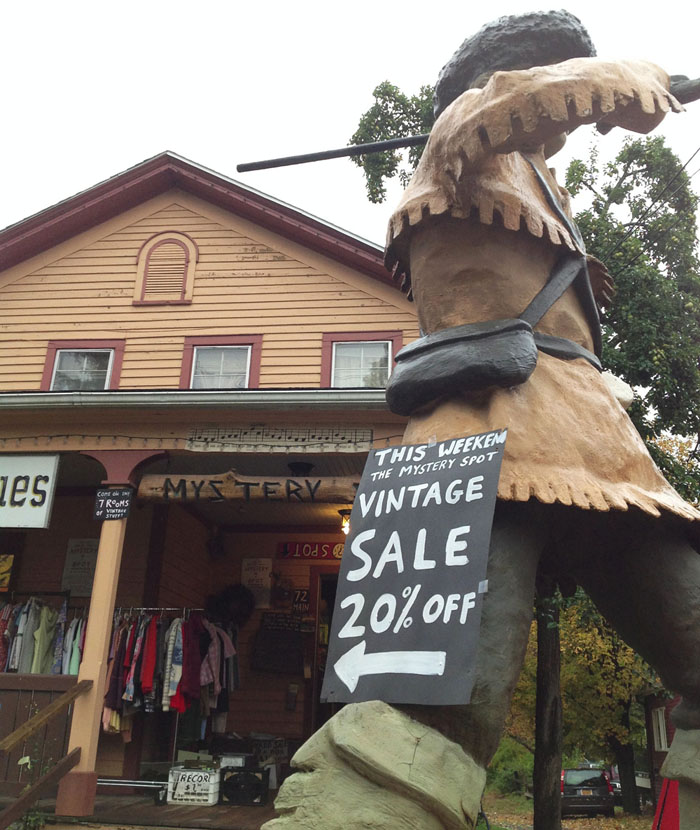 It's that time of year again! The leaves are peaking, the Phoenician air is fresh, the sun is shining, AND it's time for our annual Columbus Day Weekend blow-out yee-haw whoop-dee-do 20% off sale!
Everything vintage in the store is on sale. Records, vintage clothing, lighting, etc….you know the drill. Get yourself up to the Catskills this weekend for some leaf-peeping and vintage shopping.
Seven rooms in a former 1800′s hotel packed to the rafters with antiques, vintage doo-dads, thousands of vinyl records, and tons and tons of vintage clothing.
If you haven't been here in a while, you'll be able to recognize us by the GIANT STATUE OF DAVY CROCKETT in front of the shop.
Our special holiday weekend sale hours:
Saturday Oct. 12th (11am – 6 pm)
Sunday  Oct. 13th  (11am – 6 pm)
Monday Oct. 14th (11am – 4 pm)
We're fixing to close for the season right after Thanksgiving weekend, and open only on a few holiday weekends before our Spring 2014 season, so be sure to get your vintage shopping done before then.
Questions? Have stuff to sell/trade? Coming from a distance? Feel free to call (845-688-7868) or email.