Archive for the 'Person of the Week' Category
Thursday, January 7th, 2010
Of course, you're all favorites! Here are some memorable moments captured by our camera over the past eight years. We migrated these photos over from the Mystery Spot website, where you can click through pages and pages of happy snapshots of happy customers from Mystery Spot days past.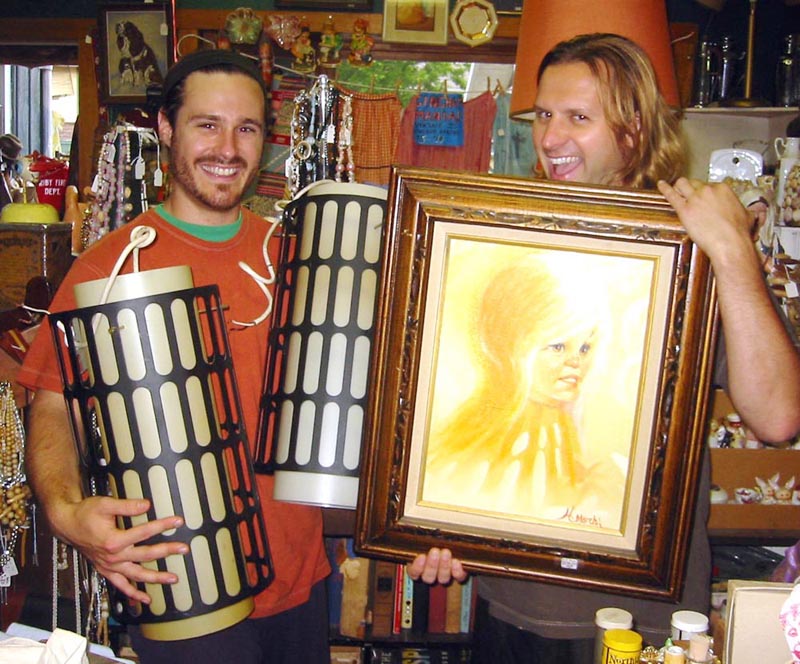 Back for more!
Photographer/musician Jeff Stults makes a return trip to Le Spot to pick up a cute blonde that caught his eye last time he visited. This Sixties signed oil on canvas painting of a waif-like girl set him back only $75. (He's since told us that he named her Bavaria and has composed and recorded an entire concept album around her). Meantime, metalsmith Jason Yoder couldn't pass up this pair of mid-century 60's ceiling lights, a mere $50. for the two.
Comedienne Lisa DeLarios and her dog Stargil find inspiration in a vintage multicolored honeycomb crepe paper decoration ($8.). The comic (not to mention decorative) possibilities are endless!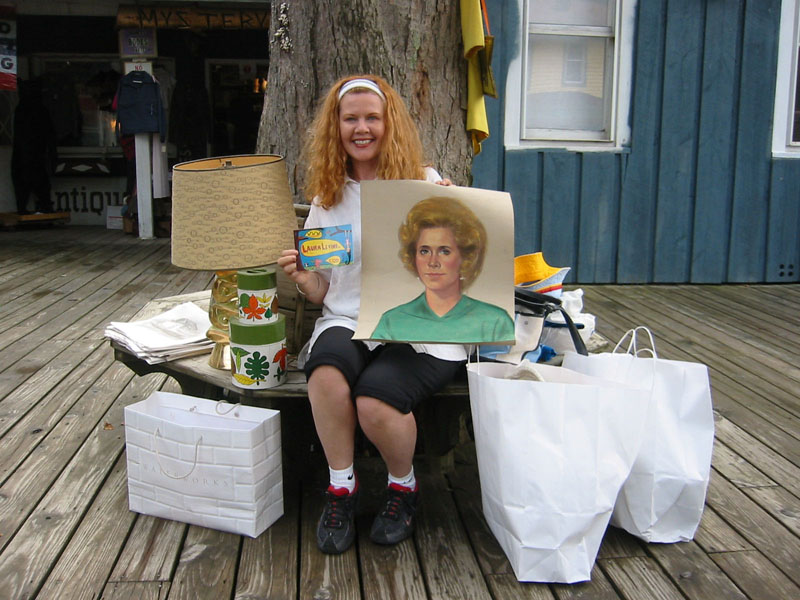 Spot regular Kate Pierson of the B-52's proudly displays her finds for the day. They'll all go towards furnishing her fabulous modernist/rustic getaway, Kate's Lazy Meadow Motel, in nearby Mt. Tremper. Included are a mod 60's canister set ($20.), a chartreuse ceramic 50's lamp with bubble shade ($40), and a pastel drawing of a Joan Kennedy lookalike (free).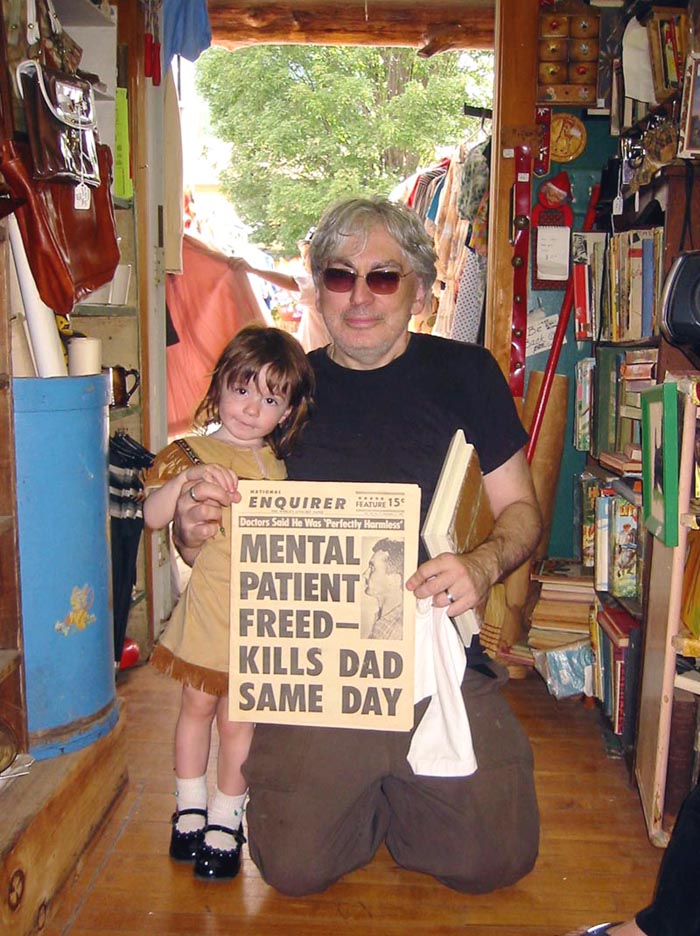 What a difference a year makes! Last year Akira's main mode of transport was stroller. Now she's a big sister (and a cowgirl)! According to doting dad Chris Stein (Blondie), she's already showing signs of the musical talents that run deep in her gene pool. Chris and Barbara left with an armload of purchases, including a 1910 Mandarin Primer ($40.), this 1960's National Enquirer ($10.) and a stack of art books.
Tessa models – forgive the understatement - the most killer pair of boots we have ever seen in our lives! A pair of vintage Sixties white leather mod gladiator lace-up sandal boots ($125.) straight from the estate of a former stripper. She completes the look with a deadstock 60's patchwork cropped shirt ($28.) and Sixties Aquarius Zodiac medallion ($14).
Posted in Cool Customers, It Came from the Shed, Music for Front Porches, Now Playing, Person of the Week, Uncategorized, Vintage Clothing, Vintage Find of the Week, Vinyl Finds | Comments Off