As usual, we're a little behind posting photos of some of the cool customers who've come to Phoenicia and stopped by Mystery Spot Antiques this summer. (We're a little more together over on our Facebook page).
Without further ado, here are some of our favorite people who've walked through our doors, and the vintage stuff they bonded with: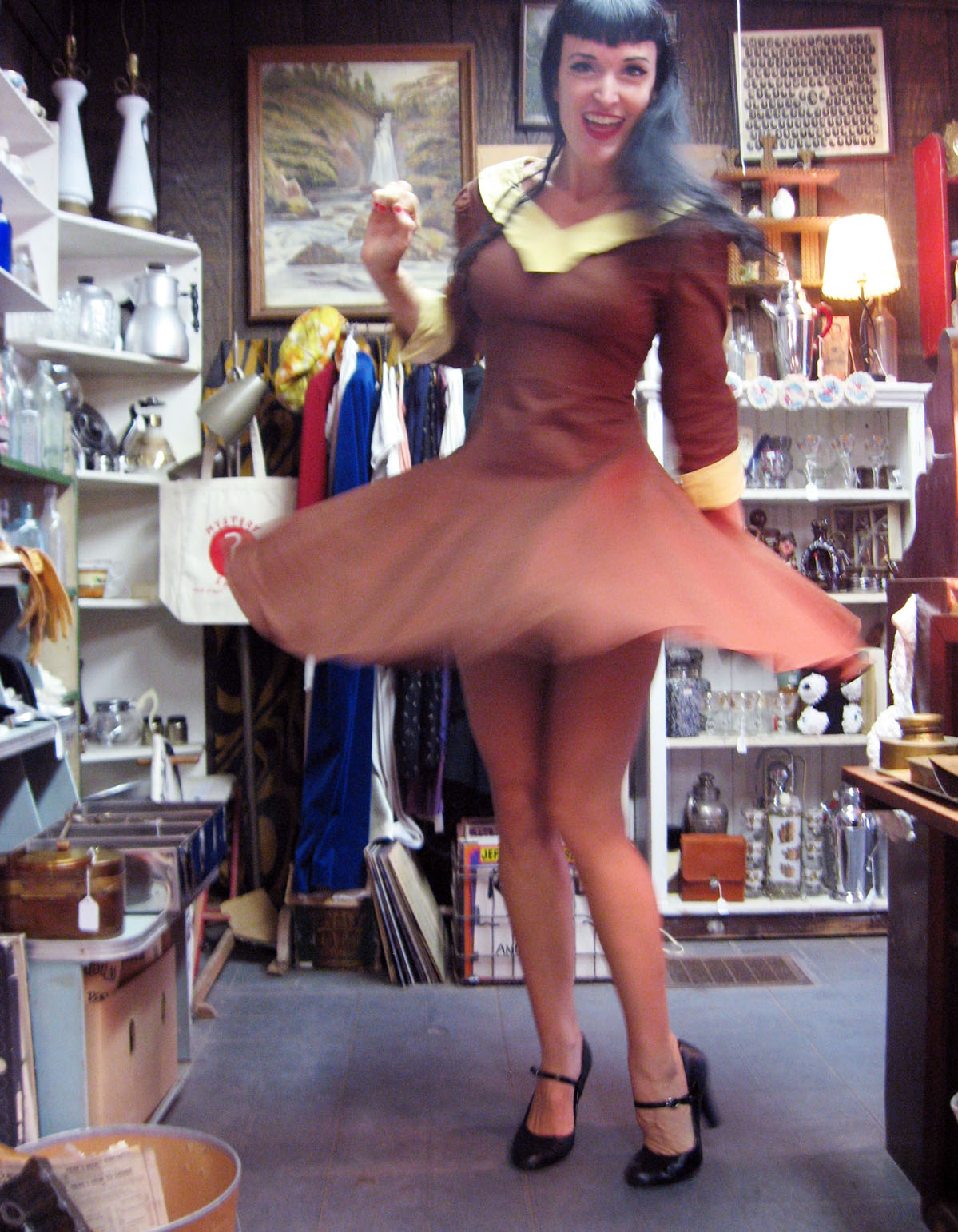 Earlier this summer a benevolent and mysterious stranger left a box of vintage 1940's handmade roller skating costumes on our doorstep. Our friend and long-time customer Veronica Varlow popped in the other day and was kind enough to give one of them a spin for the Mystery Spot camera. "Danger Dame" Veronica is a woman of many talents: burlesque dancer, pin-up model, actress, producer and performance artist. When not doing her famous feathered fan dance or fire play for devoted audiences around the world (next stop, South America!), she's writing a book which is be sure to be a bestseller.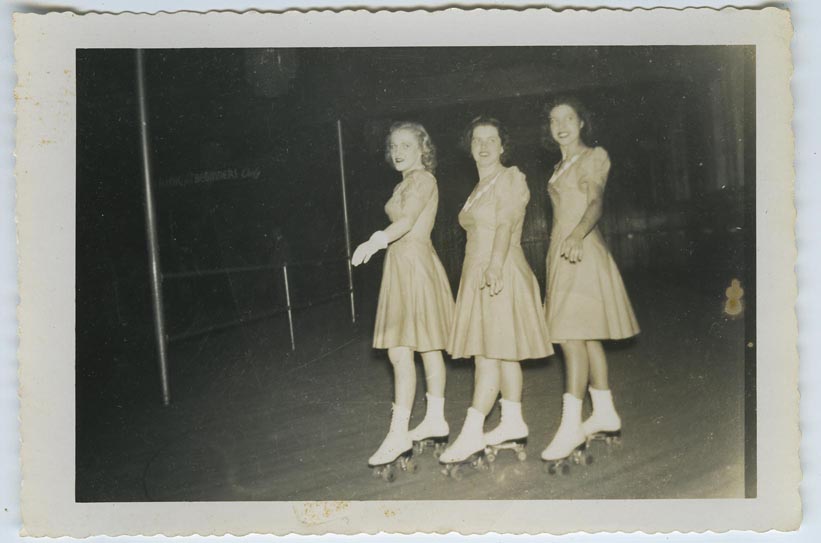 So…about those Forties roller skating costumes. They appeared on our doorstep one random day this summer, six or seven of them neatly folded in a box. Slightly worse for wear from many years of storage, but nothing we couldn't fix with a little bit of Biz and a long hot soak. Tucked inside the box of costumes was a faded black-and-white snapshot. We have no idea who these lovely ladies are, but a couple of the very same dresses pictured (all with matching knickers!) are now at The Spot. They were obviously (and lovingly) sewn by hand – no doubt by the young women themselves, or perhaps one of their mothers.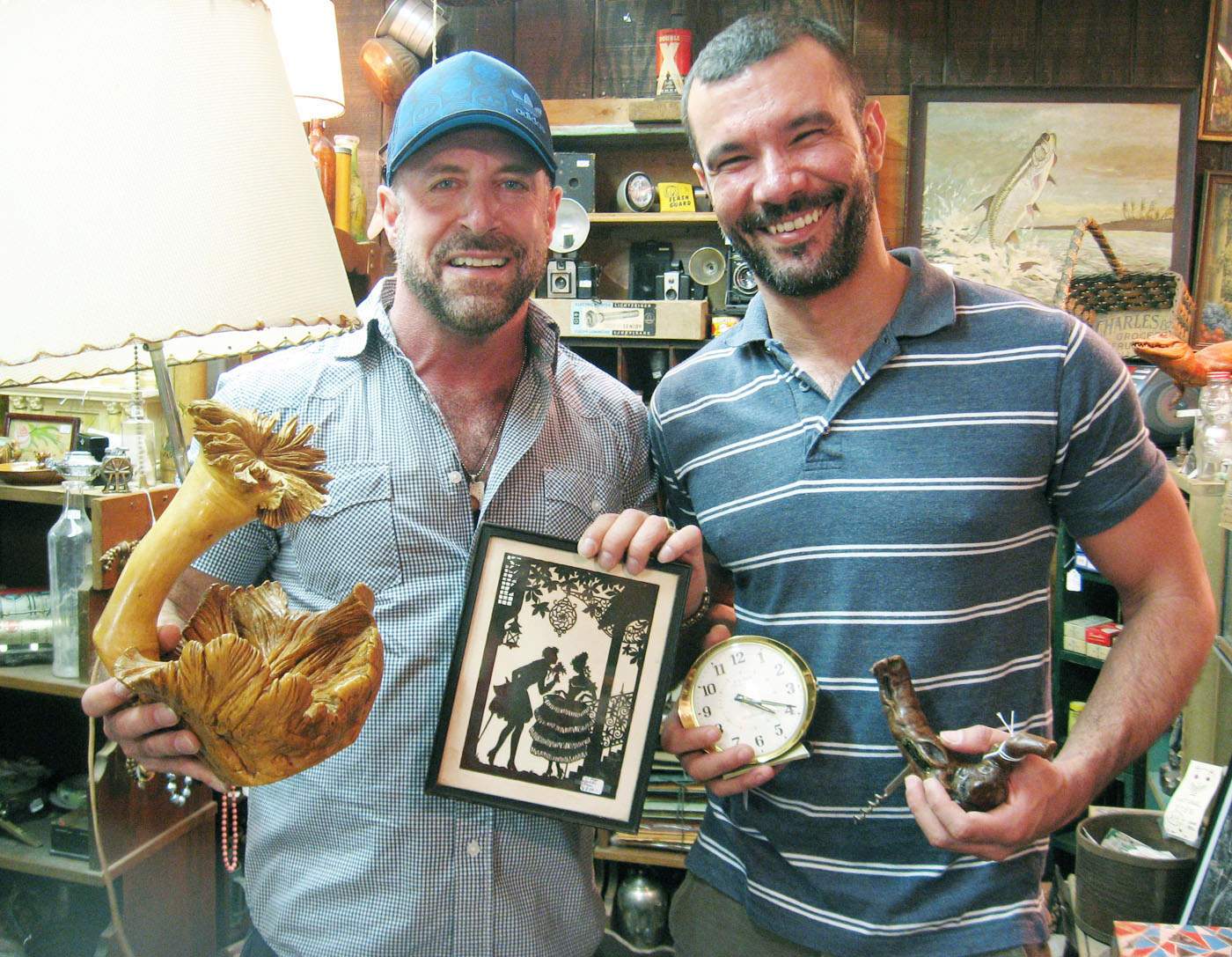 Remember that insane mystery lamp we posted photos of a while back? Well, it found a new home! John Lovett, a visual artist, musician (Candidate), sound artist (Lovett/Codagnone), sculptor & more, and Rodrigo DaSilva, a bartender at The Monster, scored bigtime at the Mystery Spot, picking up a cut paper silhouette ($27.), a Big Ben alarm clock with an ascending alarm ($27.), burl wood corkscrew ($18.), and….yes! our favorite mystery lamp! ($75.). Come back again soon, guys!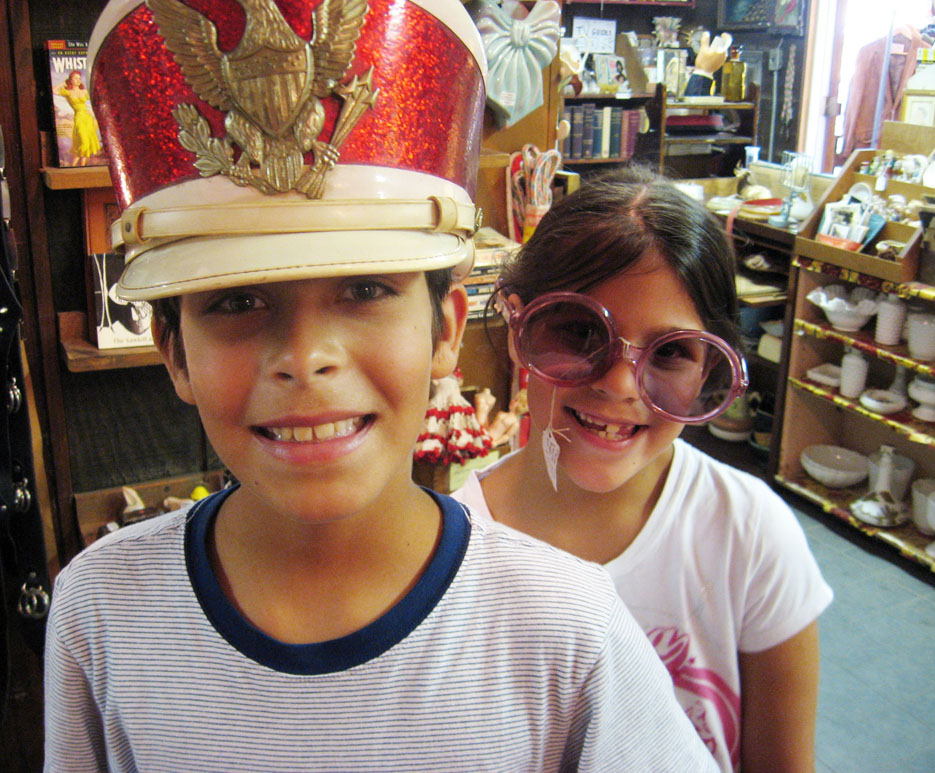 Brother and sister Frankie (10) and Martina (7) had a blast checking out this vintage red sparkly marching band hat ($35.) and 1960s purple lucite hippie sunglasses ($20.). Frankie says this is the "awesomest store ever!" Oh, and he also says, "relax!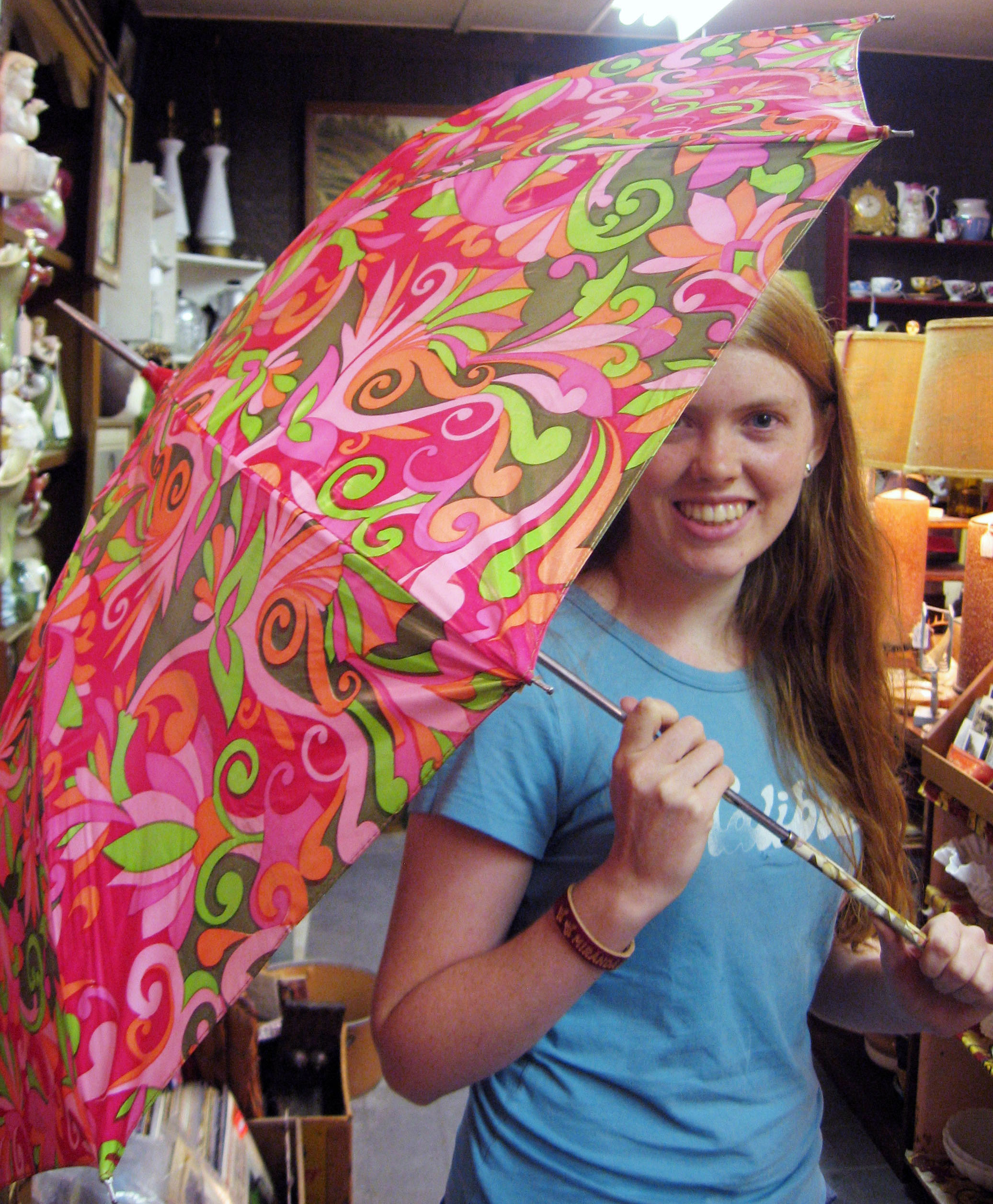 Speed and stealth are good qualities to have when planning a serious shopping excursion to The Spot. We'd literally brought this utterly mod, darling 1960s Made in Hong Kong Carnaby Street style psychedelic vinyl umbrella ($35.) into the shop moments earlier when young Miranda here snapped it up to send to her friend who just started college in rainy old England. What a perfect gift indeed!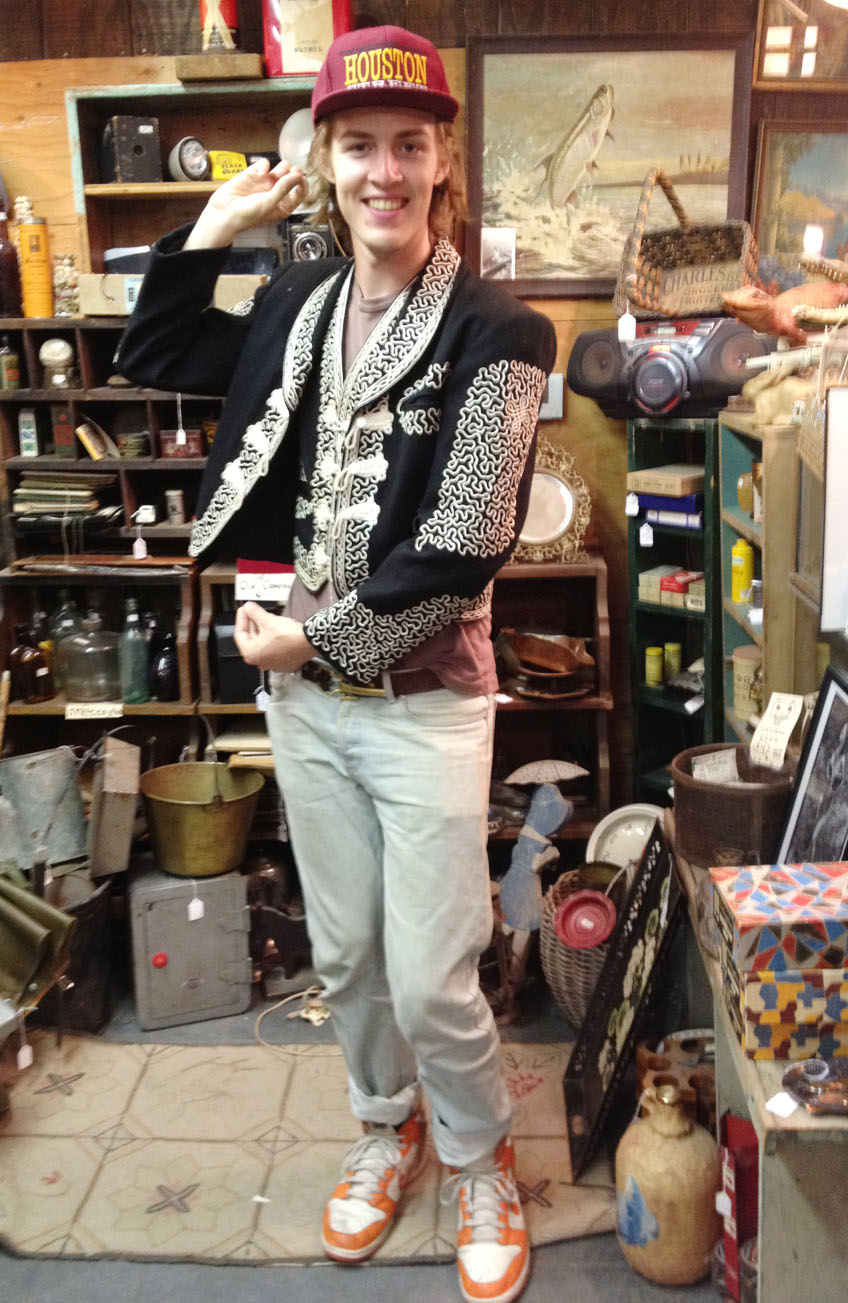 We first met Wade Oates, founder and former member of the Virgins, when he was still in his mama's belly (at his East Village drag queen baby shower) and what a fine young man he's grown up to be. Internationally acclaimed rock star, fashion model, and Mystery Spot connoisseur. Wade humors us with a little Mexican two-step in a vintage embroidered mariachi outfit (trousers not pictured, but yeah, we have the whole kit & kaboodle). (Photo by Grace Grant)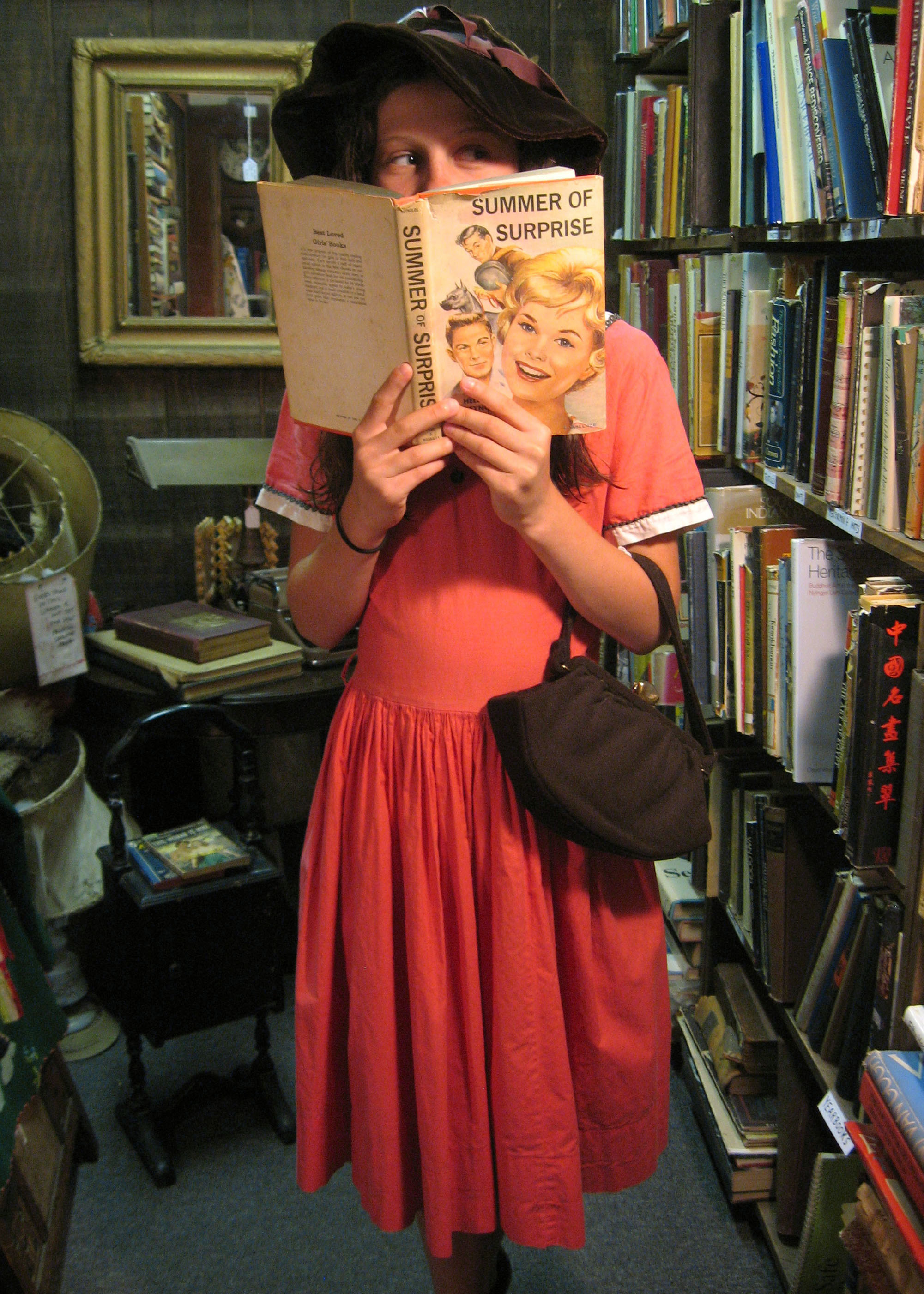 You'd never guess from this demure pose, but our good friend Ava (age 11) is nicknamed "Piranha" by her basketball refs. She plays point guard and power forward and is the top scorer on her team!
Ava styled herself in a sweet pink cotton 50's day dress ($24.), 40's brown velvet hat ($25.), 50's brown felt handbag ($35.) and is deeply engrossed in SUMMER OF SURPRISE, plucked from the shelves of our book room, Homer's Books d'Arte.
Remember the days when "sensitive" materials were mailed in a plain brown paper wrapper? Well, we sure do, and this lovely duo of graphic designers (he for Sacred Bones Records, she for the New Yorker) zeroed in on a prize: THE IDEAL SEX LIFE, bundled with the profusely illustrated PICTURE STORIES OF THE SEX LIFE OF MEN AND WOMAN, both still gently nestled in the plain brown wrapper they were mailed in. ($28.) (And don't worry Mrs. XXX on the address label, we won't blow your cover, even if the package was postmarked in 1940.)
David Correll
and
Sarah Ferretti
also picked up a
cast iron gooseneck reading lamp
($45.),
a
framed Victorian print of what looks to be a dying child
($40.)
, and several other vintage doo-dads.
Oh, also, David says to tell you that he likes cats with hats.