Books
Laura Levine is a self-taught artist whose illustrations have appeared in countless magazines as well on the covers of numerous books and CDs (Richard Thompson's Rumour & Sigh, Verve's Essential Jazz Series).
For over a decade Levine has been painting an ongoing series of portraits of contemporary music's pioneers, which she developed and adapted into a series of children's books. Honky-Tonk Heroes and Hillbilly Angels: The Pioneers of Country & Western Music, and Shake, Rattle & Roll: The Founders of Rock & Roll (Houghton Mifflin; with words by Holly George-Warren). Her first picture book was Wig!, a collaboration with the B-52's (Hyperion Books for Children).
The illustrations Levine created for Shake, Rattle & Roll spent a year on exhibit, touring some of the country's finest cultural institutions and galleries including the Rock & Roll Hall of Fame and Museum in Cleveland, The Experience Music Project (EMP) in Seattle, Yard Dog Folk Art in Austin, and the Buddy Holly Center in Lubbock, Texas.
She did booksignings in Austin, at Barnes & Noble in Orlando (as part of the Florida Film Festival), at the Woodstock Library Fair, and shared the signing table with author William Kennedy at the Lake Placid Film Forum.
Rock 'n roll legend (and one of the subjects of Shake, Rattle & Roll) Miss Wanda Jackson graced us with her presence and signed dozens of books at Laura's Yard Dog opening night artist's reception.
Laura's illustrations for Shake, Rattle & Roll have been honored with awards from The Society of Illustrators, American Illustration, and "The Original Art."
______________________________________________________________
La Luz de Jesus Gallery presented a one-person show of the original art in Los Angeles in the spring of 2006.
please click here to purchase original artwork from the book
Honky-Tonk Heroes and Hillbilly Angels:
The Pioneers of Country & Western Music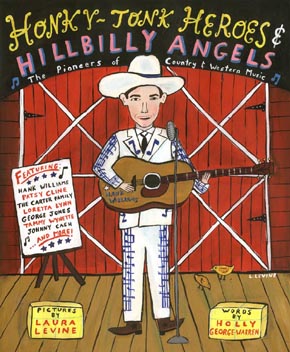 "Anyone who's a fan of country music—no matter what their age—will love this
great-looking book. I intend to give it to all of my grandchildren, and it will have a permanent place on the Jones family bookshelf for generations to come."— George Jones
"...a beautiful and compelling book about the iconic figures of country music. This is a book ostensibly for children, but it is packed with so much concise and clear biographical information, and is illustrated with such striking, museum-quality folk paintings, that it belongs in adult libraries as well. A really delightful book " -- Rosanne Cash
"Levine's mixed-media folk-art paintings, each presented in an antique wooden frame, provide the collection's raison d'être; if they don't entirely resemble their subjects, they capture the down-home mood of the rootsy music and the inimitable style of, say, Tammy Wynette's big blond hairdo. Between the opening act (the Carter Family) and the closer (Johnny Cash), Levine's luminaries include bluegrass pioneer Bill Monroe, tragic heroes Hank Williams and Patsy Cline, singer-guitarist Kitty Wells and picker/grinner Buck Owens." - Publisher's Weekly
"The book is a showcase for the whimsical anti–folk art–folk art illustrations of Laura Levine. As a lifelong aficionado of children's books, I have to say this one is gorgeous, informative and a superb place to start a musical education. I've already ordered a few more just to have around for when yet another friend calls to say that, in Aerosmithian terms, "the rabbit done died." – Robert Baird, Stereophile Magazine
(Our Bob Wills painting was featured in the Oct. 2006 issue of Vanity Fair!).
"Country music wasn't always represented by the super-slick, overproduced pop style you often hear today. It was handmade and heartfelt, and that feeling comes across in a reference book of sorts about early country stars such as the Carter Family, Jimmie Rodgers, Kitty Wells and Hank Williams (his real first name was Hiram!). Levine's vibrantly colored paintings would look right at home on the walls of a folk art museum, and the biographies by George-Warren are informative and clear without being condescending". - NY Post
"Levine's mixed-media art harmonizes perfectly with these vignettes. What could be better than a toothy Gene Autry paired with his equally toothy equine companion, Champion, or Tammy Wynette and George Jones's clasped hands broken by the gutter? A painting of the serious Carter family, in an oval vintage frame, opens the book; the final entry shows Johnny Cash, who married into the Carter family, surrounded by a casket-shaped frame, wearing his trademark black, with a ring of fire around dhis feet. The circle from Carter to Cash is unbroken, indeed. Fans of any age will enjoy this paean to roots music".-Horn Book
"I'm simply smitten with the recent release, Honky-Tonk Heroes and Hillbilly Angels: The Pioneers of Country and Western Music. It's a great way to introduce your grade schooler to the music legends who certainly influenced the music they'll grow up to annoy you with. The bite-sized, engaging bios of country greats like Johnny Cash, Loretta Lynn and Gene Autry are only made better by Laura Levine's phenomenal folk-art portaits of the artists, which will engage kids perhaps as long as the songs themselves. Just don't be surprised if you buy the book for your favorite nephew and it ends up on his parents' bookshelf instead." -coolmompicks
"Highly recommended—Laura's paintings capture, in their forceful colors, deep-rooted innocence, and devil-may-care whimsy, much of the essential mystery that makes early rock and country music so powerful." -Coral Press
"Laura Levine's illustrations are what sold this book for me. I don't particularly like country music but her picture of Johnny Cash standing in a ring of fire is worth a look-see. If anyone knows where I can get prints of Levine's work, let me know! Laura, you tease us by not selling out and allowing your work to be mass produced in posters and t-shirts. Give me merchandise!" -pigeonsnpigs
"The short prose biographies of greats such as Jimmie Rogers, several generations of Carters, Patsy Cline and Gene Autry are brilliantly matched with self-taught artist Laura Levine's portraits. The idiom of the portraits isn't slick--it's homemade and intense, "country" and "western" when those words weren't choreographed and costumed by Hollywood". - Mary Harris Russell, Chicago Tribune
"Homespun, folksy paintings that in their simplicity, charm and naiveté bring to mind the work of Grandma Moses". - Book Page
"Levine is an insider's outsider artist (how many children's illustrators have collaborated with the B-52s?) A bevy of country & western pioneers sit for portraits in this toe-tapping book, the hippest birthday gift since the pair's Shake, Rattle & Roll." - Chronogram
. Buy this for the kids, but keep it for yourself. - Austin Chronicle
| | |
| --- | --- |
| | You can purchase a copy of Honky-Tonk Heroes and Hillbilly Angels by going to Amazon.com. |

Shake, Rattle & Roll:
The Founders of Rock & Roll
(now in paperback!)
"The illustrations complement the text perfectly. They are brilliant little folk-art masterpieces, capturing both the hilarity and poignancy of the subject. Each likeness is so true. Author, illustrator and publisher obviously loved this project and had a ball doing it. It is recommended for all ages. Parents will be hard-pressed not to adore it, older kids will find interesting tidbits and younger children will enjoy the illustrations". -- Nancy Partridge, Children's Literature
"Fourteen of the men and women at the roots of rock 'n roll are given star billing in this energetic, young, collective biography. Each one-page biographical sketch faces a full-page acrylic painting in Levine's naif style, with oversize heads, flat decorative backgrounds, and three-dimensional frames." - Kirkus
"Kids who are just discovering their musical tastes will be amazed by a very cool picture book called Shake, Rattle, & Roll...Yes, there was there was life before current pop stars--namely, 14 pioneers like Chuck Berry, Little Richard, LaVern Baker, Ritchie Valens, and of course Elvis." --Kathleen Drull, L.A. Parent magazine
"The creators of this funky, fun picture book know their subjects. As a writer and artist contributing to Rolling Stone and other music publications, they have spent years honing their ears, eyes, and brains to rock's founders. Focusing on 14 of the original pioneers of rock & roll, including Little Richard, Buddy Holly and Elvis Presley, the book's odes to the great ones are informative, brief and hip". --Lee Littlewood, Copley News Service
____________________________________________________________
Wig!
Laura Levine's first children's book, Wig! (based on the B-52's song by the same name) was published in 1994 by Hyperion Books for Children. Fred, Cindy, Kate and Keith were gracious enough to allow Laura to take a little artistic license (and a lot of paint) and interpret their always-incredible and mind-bending lyrics for the page. Laura Levine and Kate Pierson did book signings at the ABA in Chicago, Barnes and Noble in Manhattan, and FAO Schwarz.
To this day, we hear from grown-ups who tell us that their children have harbored life-long dreams of becoming hair stylists because of this book.
| | |
| --- | --- |
| | You can purchase a copy of Wig! by going to Amazon.com. |
| | | |
| --- | --- | --- |
| | | Laura Levine's paintings from Shake, Rattle & Roll: The Founders of Rock & Roll on exhibit at the Rock & Roll Hall of Fame and Museum in Cleveland. |
| | | |
| --- | --- | --- |
| Laura Levine's paintings from Shake, Rattle & Roll: The Founders of Rock & Roll as part of The Sun Years installation at the Experience Music Project (EMP) in Seattle. | | |
| | | |
| --- | --- | --- |
| | | Another view of the EMP exhibit. |
| | | |
| --- | --- | --- |
| The fabulous Wanda Jackson poses in front of her portrait by Laura Levine at the party thrown by Houghton Mifflin for the release of Shake, Rattle & Roll: The Founders of Rock & Roll. | | |
| | | |
| --- | --- | --- |
| | | Illustrator Laura Levine and rockabilly legend Wanda Jackson in front of Laura's portrait of Wanda. |
| | | |
| --- | --- | --- |
| Wanda Jackson lets loose with a rip-roaring set at the roof-raising book release party for Shake, Rattle & Roll. | | |
| | | |
| --- | --- | --- |
| | | Laura Levine shares the booksigning table and publishing tips with author William Kennedy as they sign copies of their respective books at the Lake Placid Film Forum. |
| | | |
| --- | --- | --- |
| Laura Levine at her booksigning at Orlando's Barnes & Noble. | | |
| | | |
| --- | --- | --- |
| | | The line stretched all the way to the Florida interstate as fans waited patiently on line for Laura Levine to sign copies of Shake, Rattle & Roll: The Founders of Rock & Roll at Orlando's Barnes & Noble. |
| | | |
| --- | --- | --- |
| Laura Levine came all the way down to Austin, Texas for an exhibit of her original paintings from Shake, Rattle & Roll: The Founders of Rock & Roll at Yard Dog Folk Art. (www.yarddog.com). | | |
| | | |
| --- | --- | --- |
| | | Wanda Jackson joined the fun for the opening reception of Laura's art exhibit at Yard Dog Folk Art in Austin during SXSW, and helped sign some books. (photo by Ben Fong-Torres) |
| | | |
| --- | --- | --- |
| Laura Levine and Wanda Jackson sign copies of Shake, Rattle & Roll: The Founders of Rock & Roll at Yard Dog. | | |
| | | |
| --- | --- | --- |
| | | The fabulous Wanda Jackson poses in front of her portrait by Laura Levine at Yard Dog |
| | | |
| --- | --- | --- |
| Here Wanda adds her personal John Hancock to the back of Laura's portrait of her. The lucky owner of this painting will have some super provenance! | | |
| | | |
| --- | --- | --- |
| | | KCRW's Morning Becomes Eclectic DJ Nic Harcourt stops by the show to say hi to pal Laura Levine and catch up on all the latest news from back East. |
| | | |
| --- | --- | --- |
| Old friend Chris Stamey (dB's) pops in to Laura Levine's art show to say hey and try out his latest Little Richard moves. | | |
| | | |
| --- | --- | --- |
| | | Wanda Jackson and her wonderful husband/manager Wendell (the man behind the woman!) step outside for a little fresh air at Laura Levine's Yard Dog opening. |