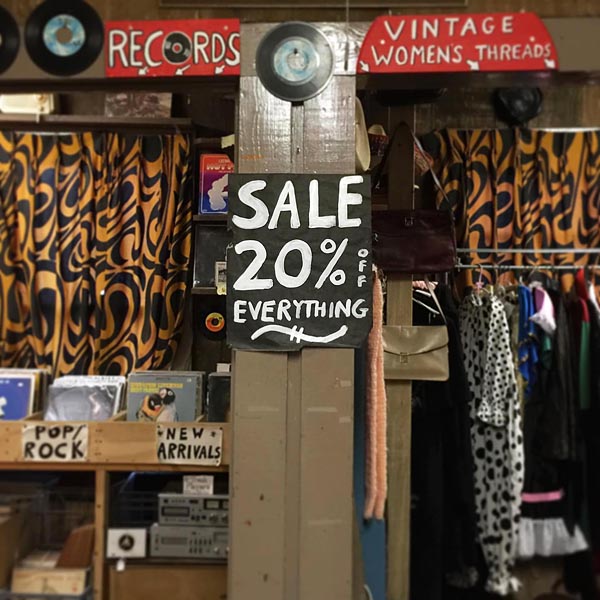 This is it, Mysterious Girls and Boys! Our final weekend of the season. Shop now or forever hold your peace until the daffodils bloom. Not unlike our fellow woodland creatures, we plan to hibernate for the winter before re-opening our doors this spring.*
The good news? Everything in the shop in all seven rooms – even our prints and paintings! – will be on sale in-store only at 20% off during our pre-Hibernation Sale.
SALE HOURS
Saturday Nov. 23, 11 – 5
Sunday Nov. 24, 11 – 4
EVERYTHING is 20% off! All seven rooms packed with vintage breakables, groovy vinyl, old books, vintage clothing, antiques, oddities, Rusticalia, and much more.
Not to mention proprietress Laura Levine's Catskills bird paintings and prints as well as archival fine art prints of her 1980s music images (as shown at MoMA, the Smithsonian's National Portrait Gallery, etc.). Beastie Boys, Bjork, Madonna, R.E.M., and Tina Weymouth and Grandmaster Flash. (And The Clash! Which is on sale at 50% off!).
If you've had your eye on something previously spotted at The Spot, now would be the time to pounce, be it a treat for yourself or a gift for someone deserving.
Over the next few months we plan to restock The Mystery Spot with tons of estate-fresh finds and even open now and then for a few surprise mystery pop-up holiday weekends. (Weather and mood permitting). Please check our social media for updates.
Even though we'll be hibernating, we encourage you to support your neighbors who run local small businesses, during this holiday season and all year 'round. There are so many amazing businesses up here in the Catskills. As we head into our 19th season in Phoenicia, we thank you for your loyal support, fun company and new friendships this year and every year.
—> BONUS ANNOUNCEMENT: we're hiring! We're looking for someone very special to hold down the fort who gets us and reflects us, and loves what we're about. If a vintage expert, there may even be a PT position available off-site over the winter. Please email (don't call) with a resume and/or relevant work/education information. Good clear communication skills and enthusiastic work ethic required.
We can be reached anytime via email or social media, and we're always looking to purchase (and/or barter) record collections, vintage clothing, vintage house contents. If you've got a lead, please let us know. Happy Thanksgiving to you all!
Mystery Spot Antiques
72 Main Street
Phoenicia, NY 12464
(845) 688-7868
info@mysteryspotantiques.com
"Just look for the fourteen foot-tall Davy Crockett"