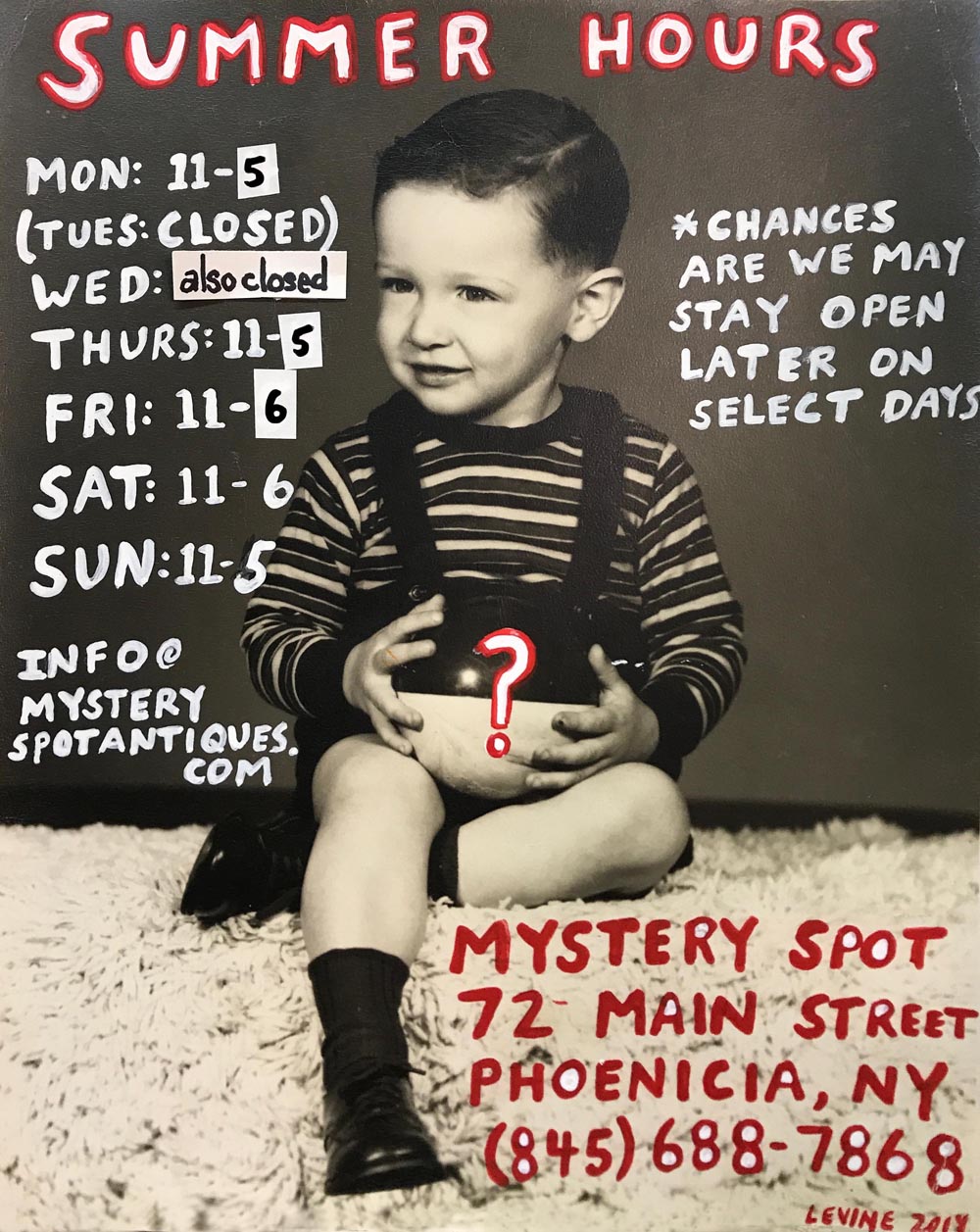 The Mystery Spot's expanded summer hours are now in effect! We're open every day except Tues/Wed through Labor Day right here on Main Street in Phoenicia, NY in the beautiful Catskill Mountains. Just look for the giant statue of Davy Crockett and you've found us: The Catskills' Vintage Odditorium.
Our seven rooms in the former Gormley Hotel are packed to the rafters with tons of estate-fresh vintage items with more coming in every week all summer long. We're determined to clear some of the beauteous bounty out of The Mothership (home base) and into The Spot. Antiques, vinyl records, vintage clothing, antiquarian books, midcentury modern, lighting, kitchenware, oddities and Rusticalia™….the list goes on and on.
As we go through our vintage stock this summer, expect everything from a 1940s blue velvet chrome deco hydraulic barber chair to boxes of framed photographs excavated directly from the personal office of showbiz legend Joe Franklin. Coming in soon: an estate haul of several hundred antique and vintage handbags (or purses or bags or pocketbooks – whichever your term of preference) to dozens of vintage and antique hats. Hundreds of rock, jazz, blues & C+W records, a few armfuls a week when possible. A rack of adorableness overflowing with vintage baby and children's clothing, with a special emphasis on vintage toddler dresses from the 1950s and 60s. Not to mention two dozen or so Forties & Fifties semi-sheer delicate white blouses. (Already in situ).
Every item is hand-picked by proprietress Laura Levine. We've been hunting and gathering mind-blowing vintage treasures all winter long, and they will make their debuts throughout the summer (our 18th season). We promise fresh vintage goodness every week, living up to our motto "Clutter My World.". Plus, we're air-conditioned! Hope to see you soon!
Our Summer Hours
Saturday 11am – 6pm
Sunday 11am – 5pm
Monday 11am – 5pm
(Tuesday closed)
(Wednesday closed)
Thursday 11am – 5pm
Friday 11am – 6pm
—> AND… probably later on weekends and holidays, or as the mood or whim strikes….
Our 18th Season in Phoenicia, NY, in the Catskills, USA!