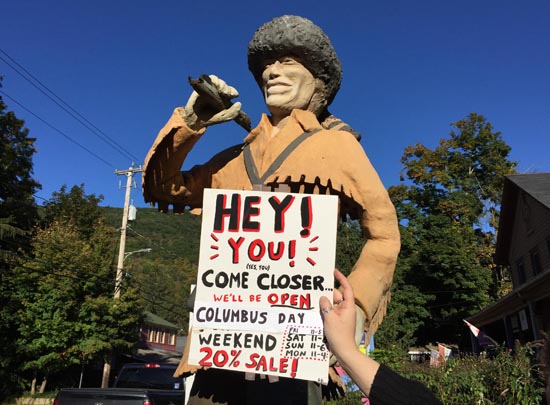 It's that time of year again! The Catskills leaves are changing, the Phoenician air is fresh, the sun is shining, AND it's time for The Mystery Spot's annual Columbus Day Weekend blow-out yee-haw whoop-dee-do 20% off sale!
Everything vintage in the store is on sale. Records, vintage clothing, lighting, etc….you know the drill. Get yourself up to the Catskills this weekend for some leaf-peeping and vintage shopping. Seven rooms in a former 1800′s hotel packed to the rafters with antiques, vintage doo-dads, thousands of vinyl records, and tons and tons of vintage clothing.
Our special holiday weekend sale hours:

Friday Oct. 9th (11 am – 5 pm)
Saturday Oct. 10th (11 am – 6 pm)

Sunday  Oct. 11th  (11 am – 6 pm)

Monday Oct. 12th (11 am – 5 pm)
We're fixing to close for the season right before Thanksgiving weekend, and open only on a few holiday weekends before our Spring 2016 season, so be sure to get your vintage shopping done before then.
Hope to see you upstate this weekend!