Archive for July, 2012
Thursday, July 19th, 2012
Phoenicia's been hopping this summer and here at The Mystery Spot we've had – as usual – the friendliest, most fascinating – and when it comes to having their photo taken, extremely cooperative – group of customers. We've taken a ton of photos, so do keep checking back as we try our best to post them as fast as we can.
Meantime, a small sampling of summertime fun….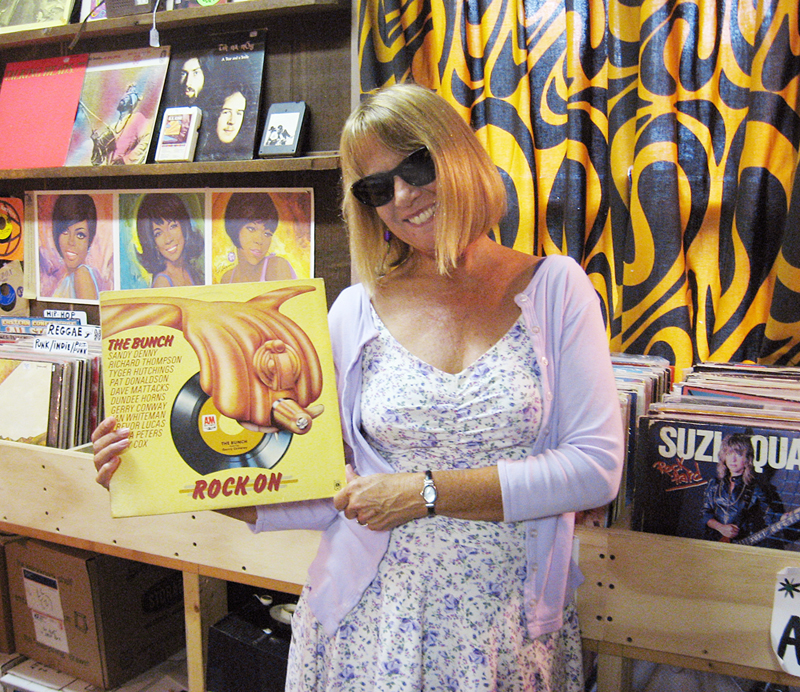 Our dear friend Nancy Covey (Mrs. Richard Thompson to you!) finds a hidden gem in our record room – a mint copy of ROCK ON by THE BUNCH. This 1972 album features members of Fairport Convention including Sandy Denny and of course, Richard Thompson. 

Nancy and Richard are up in the Catskills all week, where RT is teaching master guitar classes at music camp at the Full Moon Resort. And he, Teddy Thompson, Martin Simpson, Sloan Wainwright, and Happy Traum are playing a very sold out show at the Bearsville Theater tonight.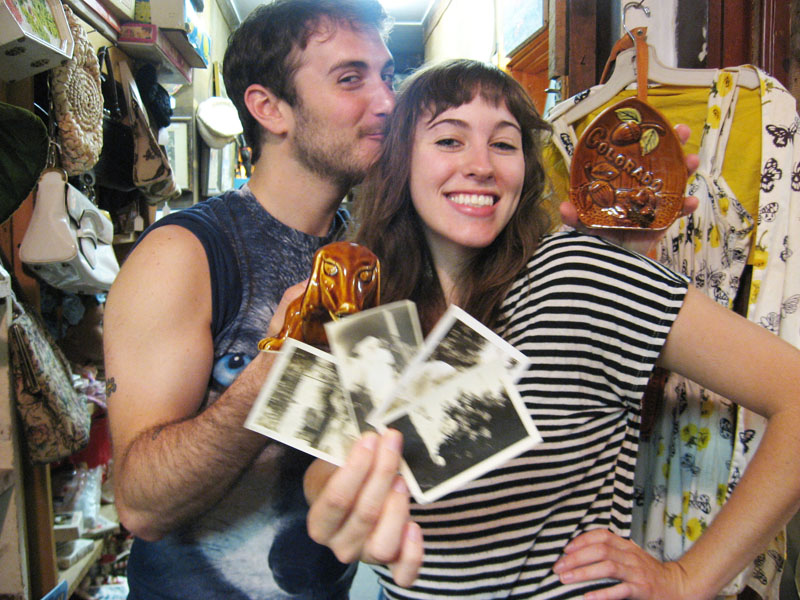 MTV music coordinator/music blogger Eric Weiner (The Wild Honey Pie) and printmaker/textile archivist Sarah Heinemann celebrated their first anniversary with a trip to Phoenicia and of course, The Mystery Spot! Their vintage scores included a weiner dog planter ($8.), a ceramic squirrel-and-acorn Colorado ashtray ($6.), and a handful of unusual old b/w snapshots ($1 – 3 each).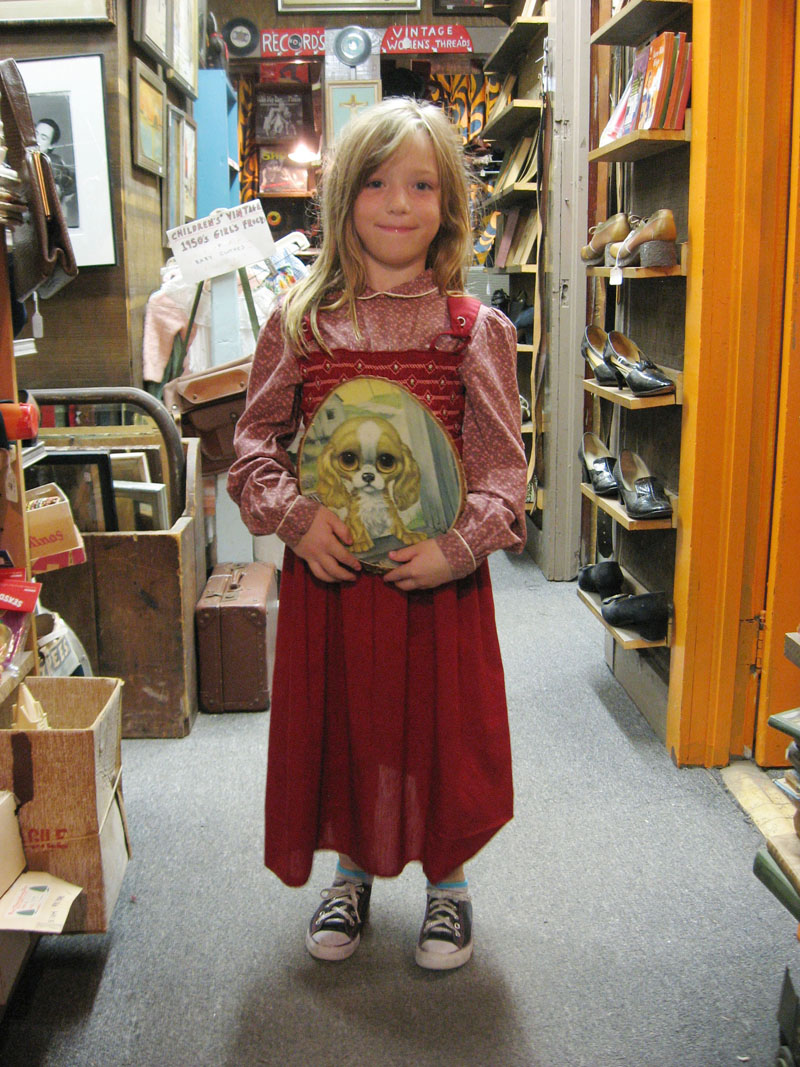 Say hello to our new friend Zoe! Zoe is five years old. Her favorite thing is her kitten Munchkin, and she also likes lions a lot. For months she's been coming by the Spot when we've been closed and coveting this Sixties big-eyed puppy on a cross-section of a log ($12.) that we've had in our window. FINALLY we were open and her mom bought it for her, along with this awesome 1970s vintage prairie dress ($20.). Come back again soon, Zoe!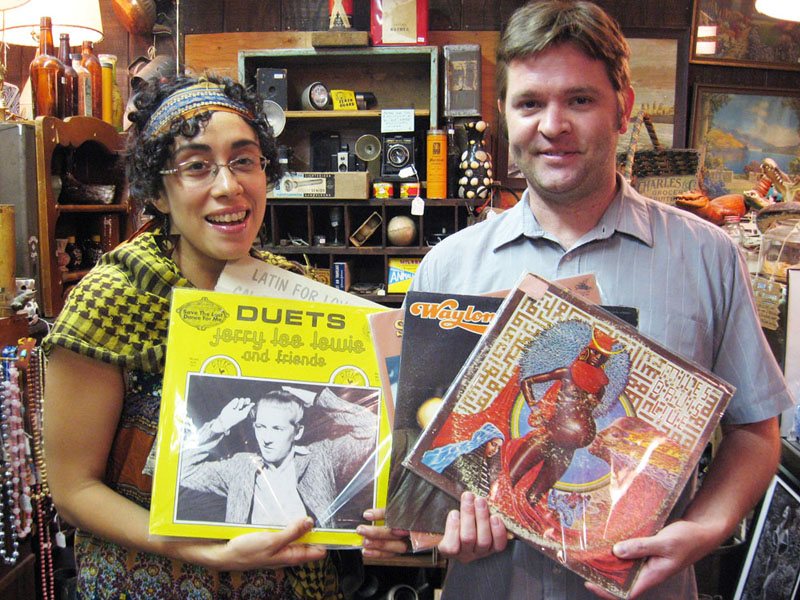 Jon and Larissa Velez-Jackson score a nice pile o' vinyl, from Jerry Lee Lewis to Miles Davis, Cal Tjader to Waylon Jennings. This creative Brooklyn-based couple (he's an editor at The Week, she's a choreographer), also known as Twitta and Papi Jon - yes, we checked out their cool website! - has a band together called Yackez. Yo!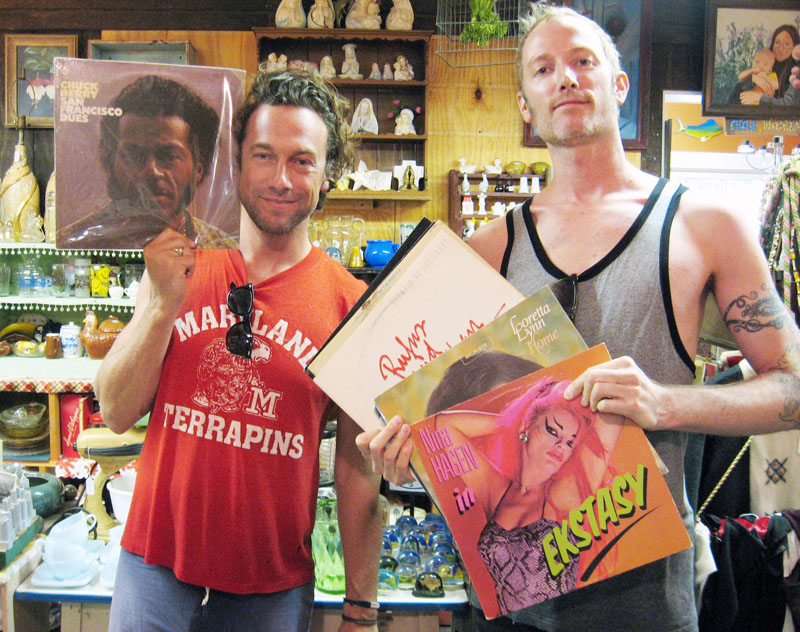 ….and the hits keep coming! Bart Higgins and sunglass designer Grant Krajecki share a few selections from the stacks of vinyl they each picked up this weekend. (Nina Hagen, Chuck Berry, Chaka Khan, Dr. John, and lots and lots of Loretta Lynn).