We've been so busy shopping barns, basements and attics and getting ready for our fall season, we've been remiss in posting photos of our recent visitors, customers and friends. Herewith, forthwith, and toot-sweet: some favorite recent Mystery Spotters!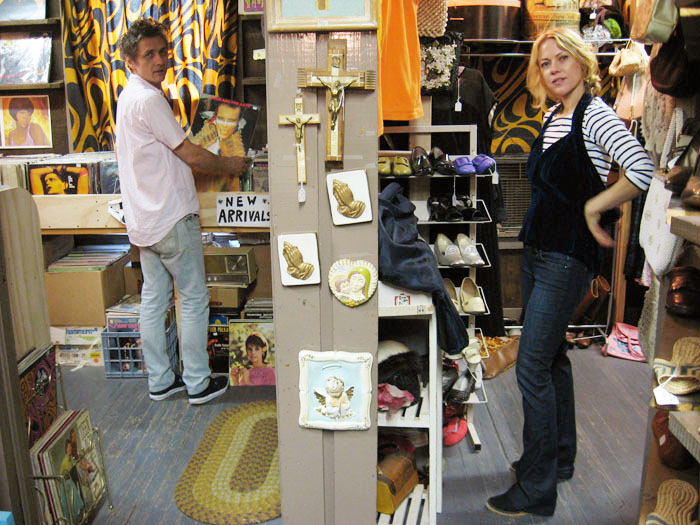 Right before they stepped out onto our front porch to play an amazing free show with Mercury Rev for the townsfolk of Phoenicia, Dean Wareham and Britta Phillips browsed the vintage wares of the Mystery Spot. Dean scored a stack of used vinyl, and Britta scooped up this beautiful vintage 50s deep blue velvet halter top, among other goodies.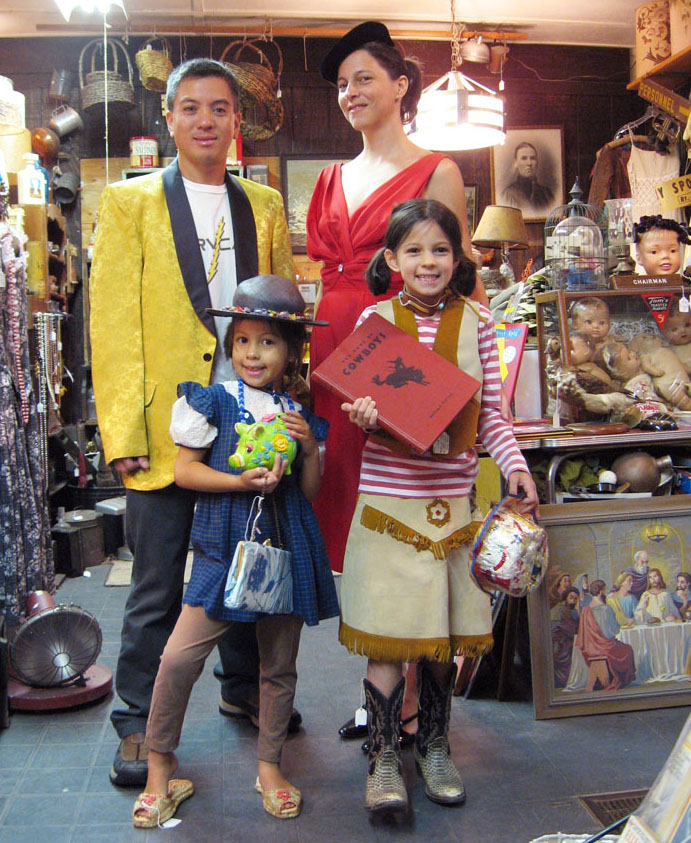 World-famous artist/illustrators Jordin Isip and Melinda Beck and their daughters Chloe (6) and Simone (8) came up for a visit and rocked the Spot. Jordin and Melinda are prom-worthy in a Sixties Rat Pack gold dinner jacket ($95.) and Sixties red chiffon cocktail dress ($85.), Simone is clad in a vintage girl's plaid Fifties frock ($20.) with purse, hat, sandals and garish 70s piggy bank ($8.) , and Chloe the cutest cowgirl this side of the Rockies, complete with cowboy boots, cowboy book, and unusual handmade confetti-cellophane cowboy hat!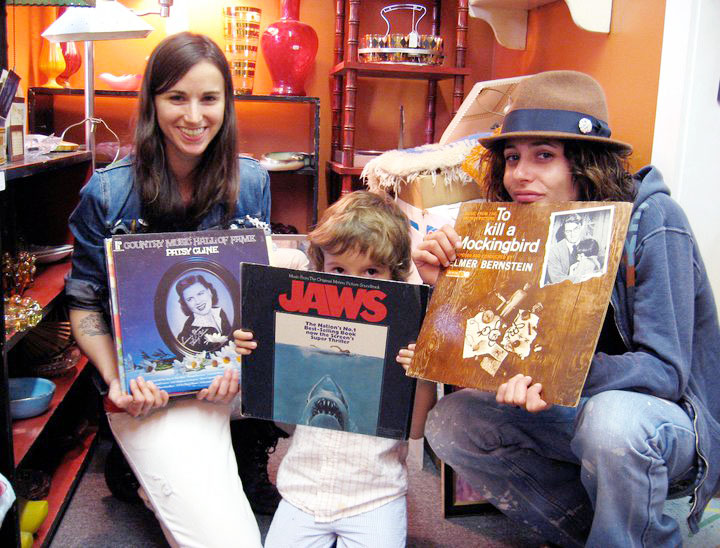 Vinyl overload! Holly, Louie and Kate raided our record room and found these treasures. Singer/songwriter/all-around wonderful person Holly Miranda recently performed a free show on our front porch which you can see clips of here and here. Kate Moennig (The L Word) is an amazing actor soon to be seen in The Lincoln Lawyer. And Captain Louie is a lifelong close personal friend of the Mystery Spot! Their vinyl scores include Patsy Cline, To Kill a Mockingbird, and Jaws ($3 – 12.)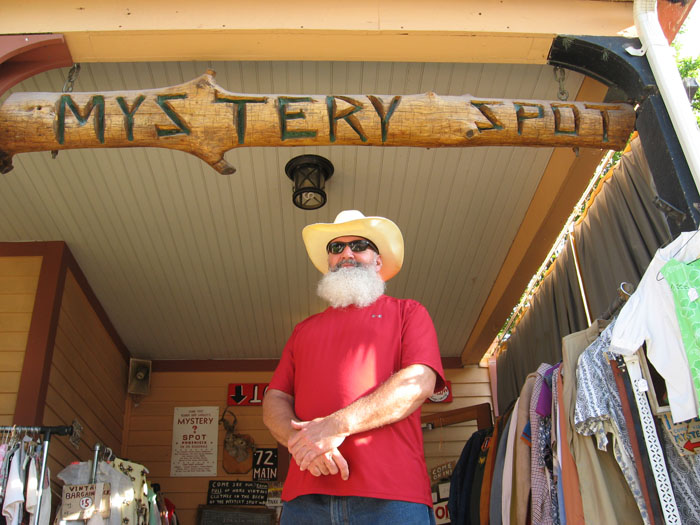 People often ask us who created the beautiful Mystery Spot log hanging above our entryway. Full credit goes to artist and dear friend Keith Strahan. When we moved to the old Gormley Hotel on Main Street last year, our biggest concern was whether or not the log would fit the porch (as it was custom-made for our previous location). It fit perfectly! A sign from the heavens indeed.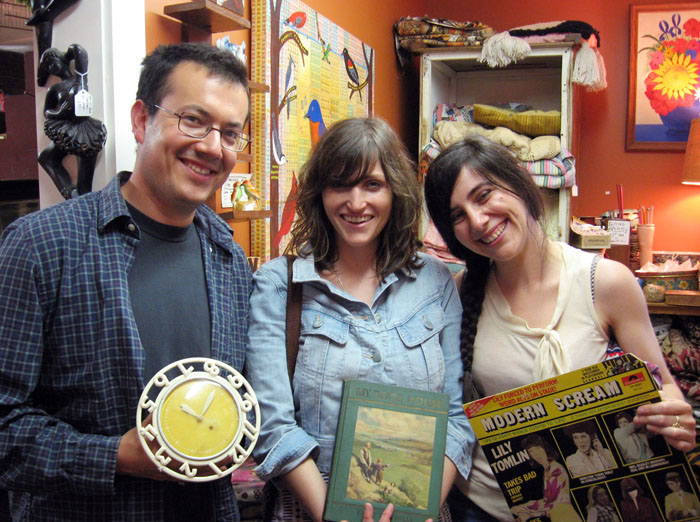 A while back the editor of The Believer in San Francisco contacted us and invited us to contribute artwork to the magazine. We weren't familiar with this McSweeney's publication at the time, but once we took a gander, we were hooked. Have you seen it? In our opinion it's absolutely the best publication out there. Books and culture, art and photography; a cover-to-cover must-read every month.
Anyway, this is a long-winded way of getting to the photo above. That's the aforementioned editor, Andrew Leland on the left. We'd never met in person until this summer, when he made a special trip to see us and our shop. Accompanying him, Betsy Wright Milton and Lily Gurton-Wachter. Behind them, the original painting of Songbirds of the Catskills, which was published as the inside front cover of The Believer in 2008. In their hands, some of their Mystery Spot loot: a vintage Fifties yellow and white kitchen wall clock ($35.), an old children's storybook, and a Lily Tomlin LP. Needless to say, we had a wonderful time hanging out and cooked up all sorts of future projects. Can't wait!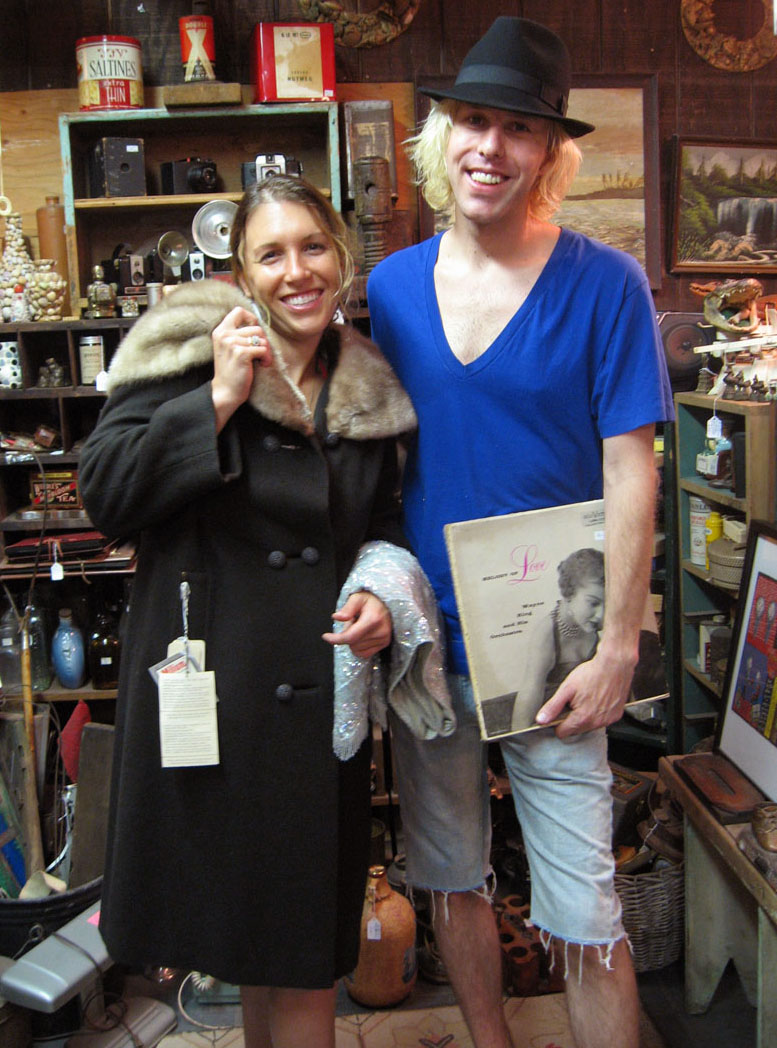 Cassandra Jones and Ben Olson made out like bandits here at the Spot. Cassandra – who, as a buyer for Macy's, knows a thing or two about fashion – scored a vintage 50s NOS (that's New Old Stock) brown wool coat with mink collar, with original tags ($130.) and a vintage Sixties Hong Kong hand-beaded silver shell top ($95.). Ben, a NY-based painter, whose work is currently being shown at The Gallery Bar on the Lower East Side, worked the vinyl room. Cassandra left us with these words: "This place is fabulous – I'll be back many times!" Looking forward, Cassandra!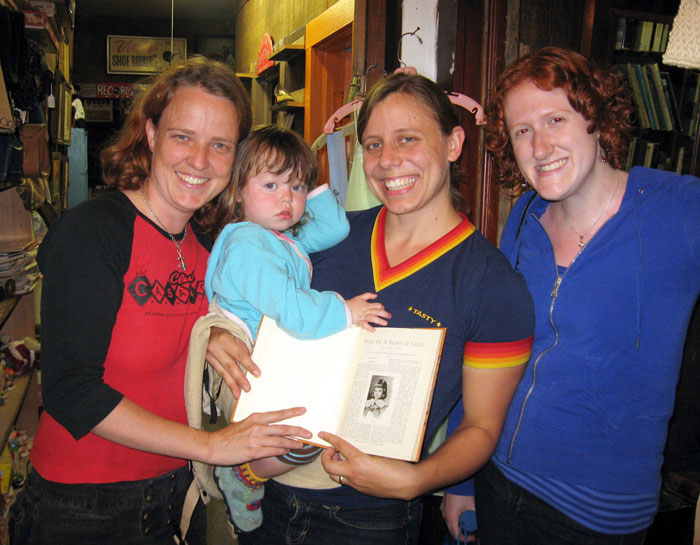 The Watershed Post out of Andes, NY, is our new favorite local news blog here in the Catskills, and the women behind it are Lissa Harris and Julie Resichel, holding daughter Ruby, who, btw, is holding a book called Ruby – Heart of Gold from 1895, which we just happened to have on our shelves. You can't really tell from this photo, but the 1895 version of Ruby eerily resembles 2010 Ruby. With them is their friend, writer Alison Cherry. OK, now go click on their blog – it's great reading!