The Mystery Spot must be sending secret rock star pheremones out into the mountains. How else to explain the outstanding musical talent that stepped through our doors the other weekend?First, two old friends of ours', Ira Kaplan and Georgia Hubley of Yo La Tengo stopped in. OK, this wasn't a total surprise, as they told us they were going to stop by, but it's always so nice to see them and catch up on old times and new doings.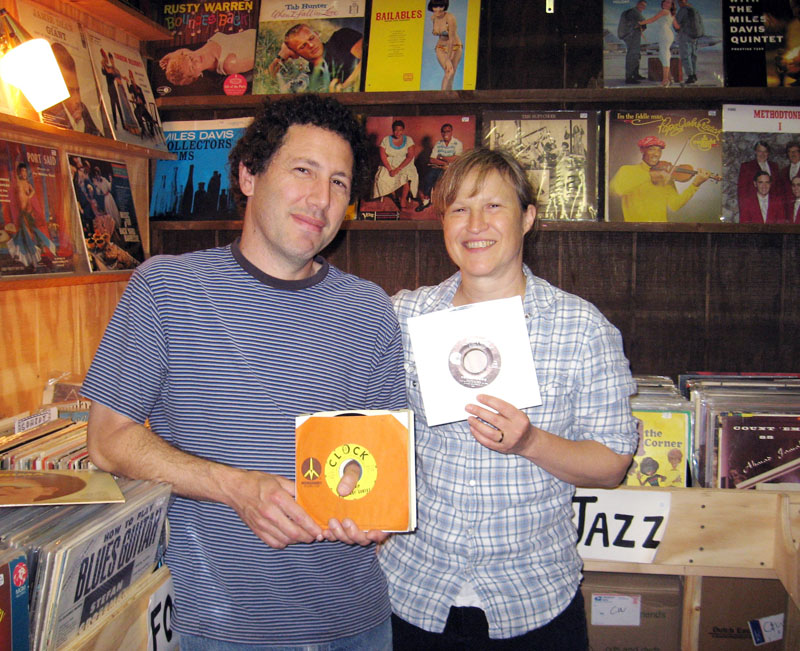 Ira and Georgia headed straight back to the vinyl room (no surprise there) and stocked up on a pile of great vintage 45's ($3. each) including the original single of CAT NIP by Dave "Baby" Cortez. Kismet, as just recently, Ira recorded a cover of that very song with his friends the A-Bones, with none other than Dave "Baby" Cortez himself joining the session.Here's a little piece of Yo La Tengo trivia you probably didn't know: the very first time Ira and Georgia performed together in public  (the debut, as it were, of Yo La Tengo) was in May 1982, at my twenty-fourth birthday party at the offices of the New York Rocker, where we all worked. (I was Photo Editor/Chief Photographer, and Ira was Record Review Editor). In fact, here's a photo of that fateful, historic moment: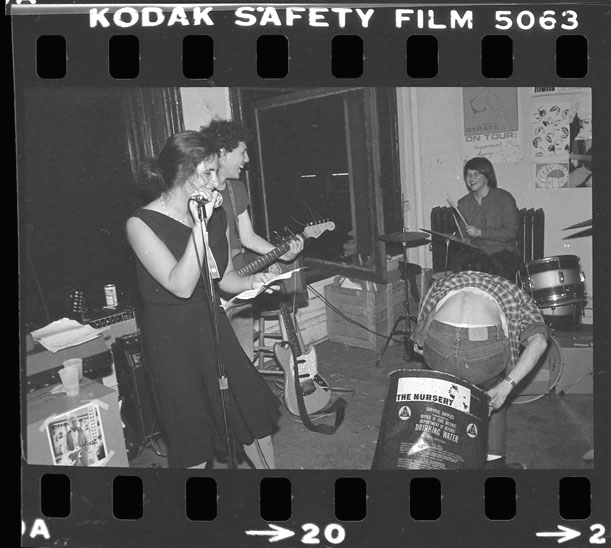 That's me (Laura Levine, the birthday girl) attempting to carry a tune as Ira and Georgia back me, and Will Rigby from the dB's is up to his usual shenanigans. (I wish I could remember who took this – Ina G., perhaps? I know I handed my camera to someone when I took the mike….)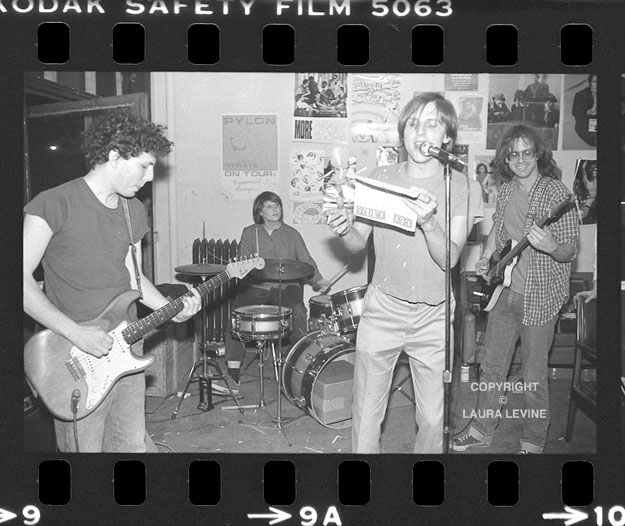 Here's another – this one's by me – that's Ira on the left, Georgia on drums, Managing Editor Glenn Morrow (of the Individuals) on vocals, and Peter Holsapple (of the dB's) on guitar.
It was an annual tradition to host my birthday parties at the Rocker offices – any excuse for a beer-soaked musical free-for-all. The office was on the second-floor loft of a building on on lower Fifth Avenue (166 Fifth). A few ratty sofas and broken metal desks, with an amazing array of records and posters taped up to the walls. All thanks for our editor, Andy Schwartz for making it so homey. As Andy recently pointed out in his blog, most all of our little group still remains friends to this day.
Not to go off on too much of a tangent here, but for those of you interested in reading more about my early days as a downtown New York music photographer, here's a good, thorough read – a three -part interview conducted by Scott Woods of rockcritics.com which really got my brain cells firing on all cylinders as I mined the past to answer his questions. You can also see more of my music photos on my website.
OK, that's just Part One of our rock star weekend! Keep reading to see who came in next….