Can you think of a better way to spend a summer afternoon than hanging out in front of a vintage shop under the shade of a twelve foot statue of Davy Crockett watching a live performance by Wreckless Eric & Amy Rigby on the front porch? We sure can't!
The artists are Wreckless Eric & Amy Rigby.
The place is vintage/vinyl shop Mystery Spot Antiques.
The town is Phoenicia, NY, in the Catskill Mountains.
The time is Sunday, September 1st, at 3 PM (Labor Day Weekend)
The annual tradition is Music for Front Porches.
The cost is absolutely FREE, and everyone is welcome.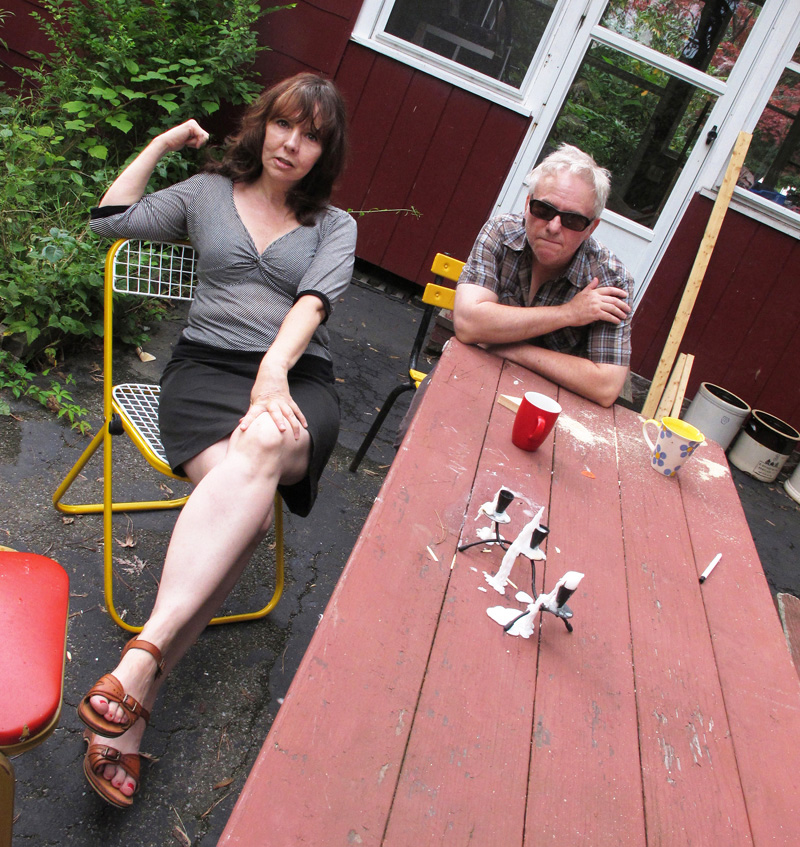 Wreckless Eric & Amy Rigby have been performing and recording together since 2006, releasing three critically-acclaimed albums and touring North America, the UK and Europe. He is the British pop legend of Stiff Records' fame whose classic "Whole Wide World" is covered in basements and stadiums around the world; she a long-time NYC songwriter and musician best known for her album "Diary Of A Mod Housewife" and Underground Garage favorite "Dancing With Joey Ramone." (You can read more about them here).
Previous Music for Front Porches performances presented by The Mystery Spot have featured Mercury Rev and Dean + Britta, Laura Cantrell, Gail Anne Dorsey, Tommy Ramone and Claudia Tienan (Uncle Monk), Alessi's Ark, Ambrosia Parsley and Holly Miranda, to name just a few. (Always free).
Our Dittypalooza! Mystery Ditties include new releases by Steve Wynn (The Dream Syndicate/Baseball Project), Tommy Ramone and Claudia Tienan, Ambrosia Parsley, Holly Miranda, and Alessi's Ark. In the can and still to come: How Gelb (Giant Sand) and David Fair (Half Japanese).  Again, all free to download – our gift to you!
Summer Hours: Mon, Wed, Thurs 11 – 4; Fri. 11 – 5; Sat. 11 – 6; Sun. 11 – 5
(Travel note: As always, please contact us first if you're planning to come from a distance, just to make sure there are no last-minute scheduling changes.)