One of the things that makes us proudest of The Mystery Spot is that it's all-ages. Sure, grown-ups love it here, but so do kids. We often get an entire family coming through the door and everyone has a good time as they go off to their respective corners – whether it's digging through the vinyl, trying on the vintage clothing, reading the weird out-of-print books, or counting the stuffed alligators scattered around the shop (at last count, seven…including the rarely captured Flying Alligator).
Here are a few of our favorite families who've Shopped the Spot in the past month or so…..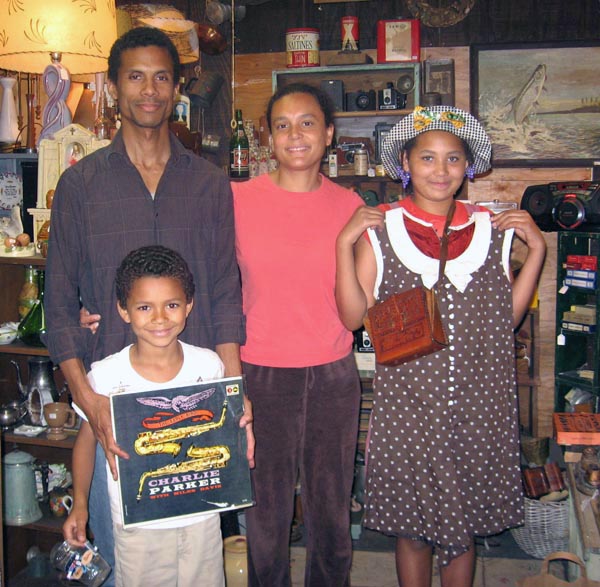 Sometimes we meet a new customer (or in this case, four of them) and we can't help but fall a little bit in love with them. This was the case with the Turner-Hansen family. We doubt that when they crossed our threshold they could have imagined spending the better part of their Sunday inside, but so they did. Dad Mark Turner, noted jazz musician, discovered the record room and our bins and bins of vintage jazz vinyl, and well…..that was the last he was heard of for hours, aside from occasionally coming up for air to see what vintage pieces his lovely ten-year old daughter, Kirin, was modeling for him. Mom Helena Hansen, a double-threat psychiatrist-anthropologist, helped Kirin out and also made sure son Ananda (OK, we are officially smitten!) was having fun. Which he certainly was, all 7 3/4 years of him!
This photo only shows the tip of the iceberg of the bags and bags of vintage wonderfulness they left with. Mark holds one of his vinyl scores, The Early Bird – Charlie Parker with Miles Davis ($20.), and a Kirin a vintage 1960s brown and white polka dot romper with white collar and buttons ($39.) as well as a killer 1960s hand-tooled leather hippie purse ($35.).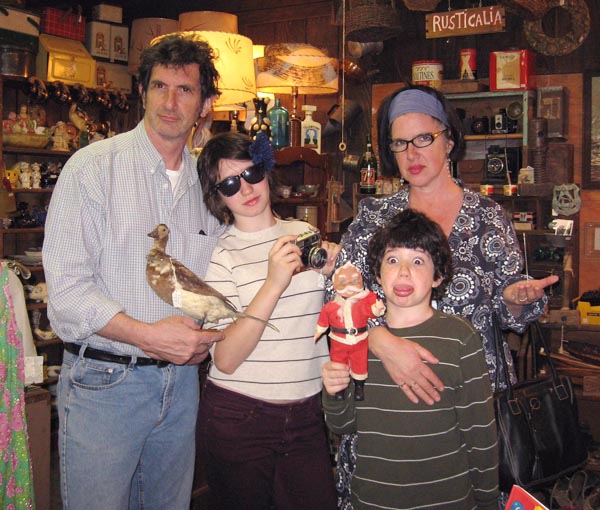 We love it when old friends pop in out of the blue to visit and say hello! We haven't seen Katherine Dieckmann in many a moon, and it was such a joy to see her walk through the door as well as meet the whole gang – husband Brian Wallis, daughter Caroline, and son Nathaniel. We mostly spent our time catching up – Katherine is an acclaimed filmmaker (Motherhood) and teaches screenwriting at Columbia University; Brian is Chief Curator at the ICP, Caroline is beautiful and wise beyond her years, and Nathaniel – well, you can tell from this photo that he's his own man.
Modeled by the brilliant, creative, sophisticated and artistic Wallises, we present the following: one stuffed duck (NFS); one vintage camera ($35.), a Scary Celluloid Santa ($12.) and an old iron receipt holder ($10.) which Katherine happily took to its new home.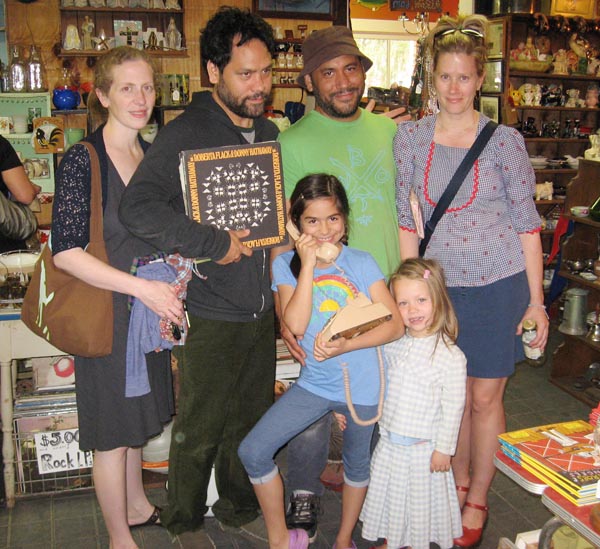 You probably recognize  the Littletons from previous appearances on these pages, as they are bonafide Friends of the Spot. Elizabeth Mitchell records with Smithsonian Folkways under her own name, accompanied by husband Daniel Littleton and daughter Storey; Liz and Dan also have the band Ida. And here's a bit more of their wonderful extended family – Dan's brother Miggy Littleton, wife Anna Padgett, and daughter Penny. Are they all musicians you may wonder? (Need you ask?).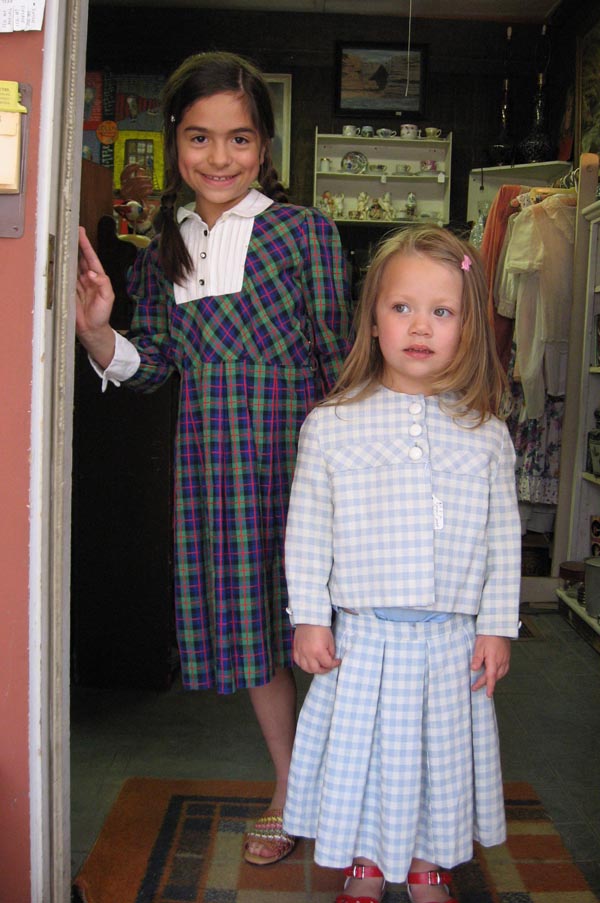 Penny is three, and she loved this vintage little girl's baby blue gingham two piece suit ($40.) so much she took it home with her. She loves to play Princesses and likes animal crackers and the Beatles. Her favorite song is Strawberry Fields Forever. Storey is now a Girl Scout! She is bridging into Juniors in June. She's also an internationally touring rock star who (still) collects elephants and likes to knit and sew. This vintage girl's plaid dress from the Forties ($15.) went home with her as well.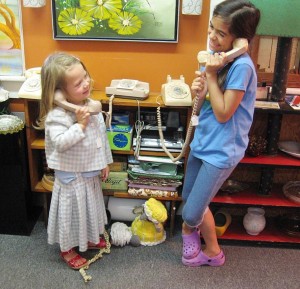 Storey and Penny were quite taken with these old – er, vintage – rotary phones, and one of them came home with them  too.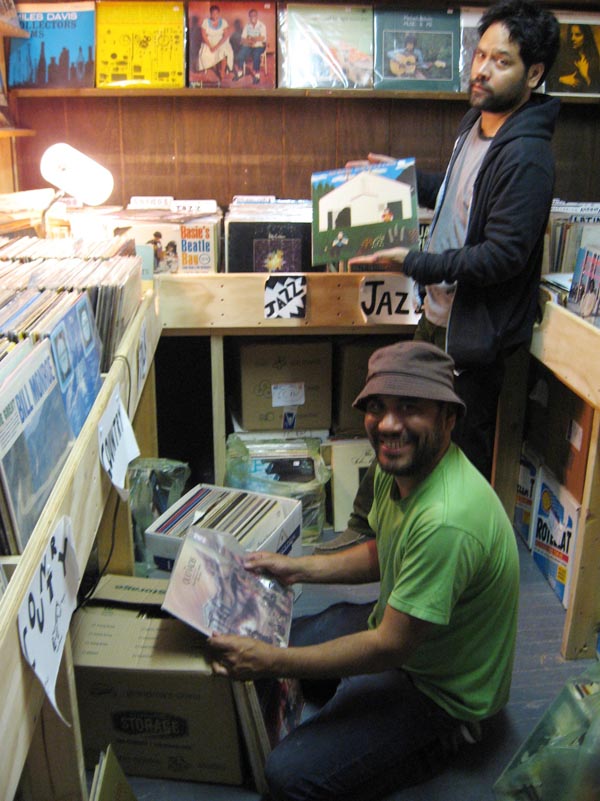 Miggy Littleton is a professional record guy (he's come to our rescue on more than one occasion) and his favorite Beatles song is All Together Now. Here we see Dan and Miggy wallowing in their element. Dig, boys, dig!
In fact, in Extended Family News, we're proud to announce that everyone you see in the family photo – Liz and Dan's band Ida, and Anna and Miggy's band The Naysayer, will be performing this summer as part of our free Music for Front Porches series. As of now the date is set for Sunday, August 1, at 1 PM, on our porch, but please do check back or sign up for our mailing list to confirm the date as August approaches.