Now that we're open for the season (did we mention it's our tenth?) things are hopping at Le Spot. Come meet some of our Memorial Day Weekend visitors….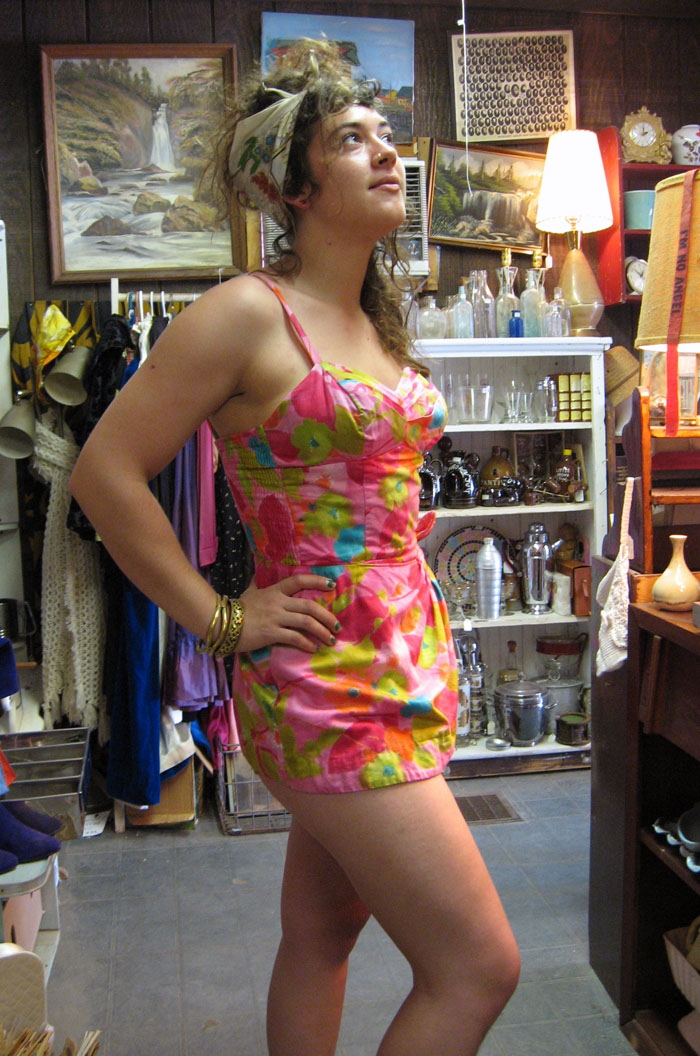 Hubba hubba! This vintage 1950s Betty Grable Hawaiian print sarong bombshell swimsuit ($60). has been patiently biding its time on the racks, waiting for the right girl to try her on and snap her up. And who should walk into the Spot this weekend but Jen Storch, a barista at Fort Defiance in Red Hook, Brooklyn. Bullseye! Wear it well, Jen — you rock it! (Speaking of rock, did we also mention that Jen sings and plays drums in her band, Flower Orgy?).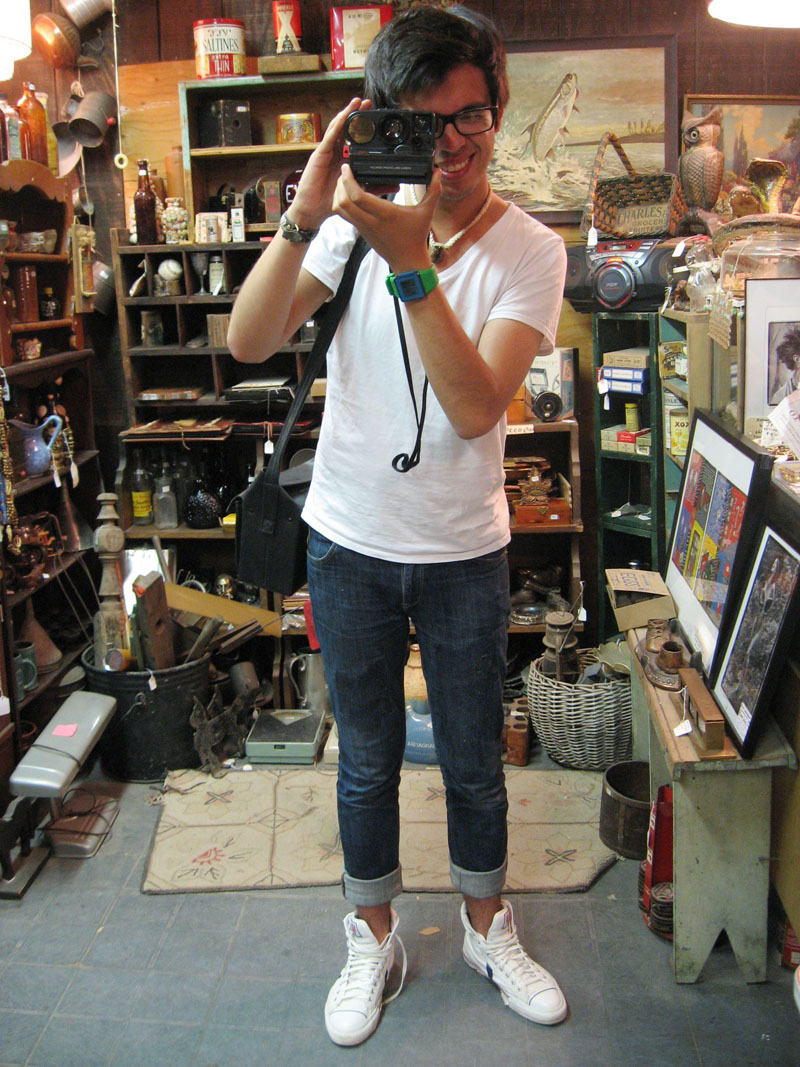 Felipe Flores is 19 and has been living in the Catskills for the past year as an exchange student from Chile. He simply had to have this vintage Polaroid Sonar One-Step Pronto camera (with all attachments and case), and for $28. American, it was his! Felipe plays the guitar and the euphonium, is planning to study photography and the visual arts.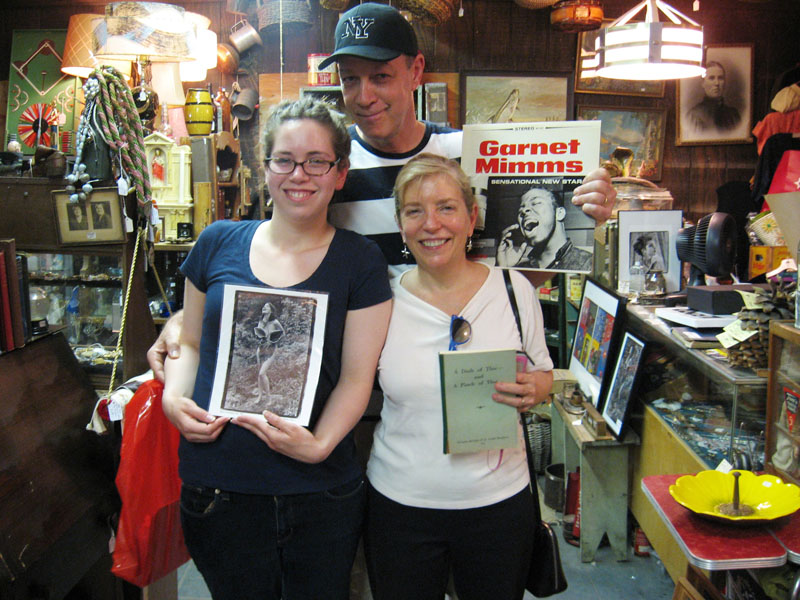 Our old pal Bill Adler from the Def Jam/RUSH days and his lovely family drove up to Phoenicia to finally see what the whole Mystery Spot thing was about. Bill got lost for hours in the vinyl room, finally emerging with this Garnet Mimms album ($8). and a stack of singles for his famous Xmas mix-tapes that a few lucky souls receive every year. Sara Moulton is a world-famous chef and all-around sweetheart. She went right for the cookbook section and picked out one with a title that she couldn't resist: "A Pinch of This and a Dash of That." Daughter Ruthie selected the first of what we hope will be a continued and lifelong art collection for her wall, our portrait of Bjork from 1991. We're truly honored that she chose one of our pieces to start off her collection.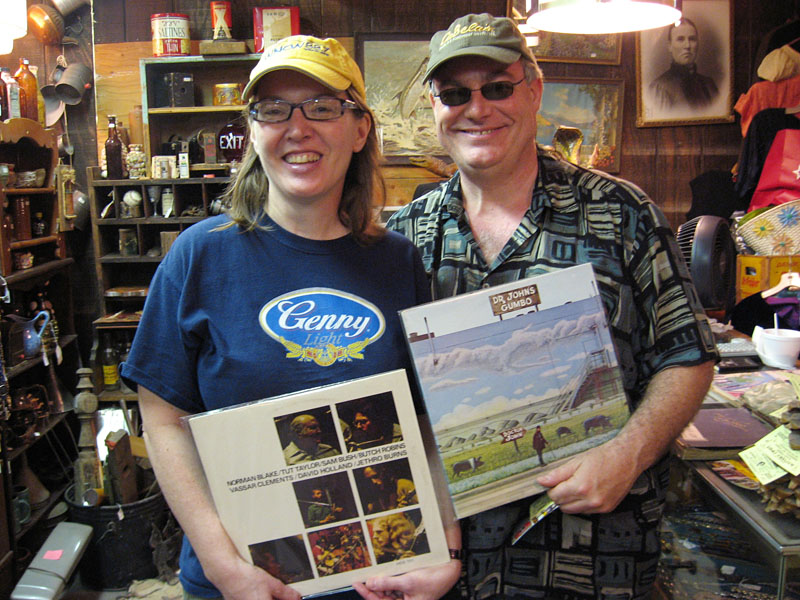 We love meeting fellow vinyl dealers, especially when they give our shop two thumbs' up. Jann and Tom have a record store in Rochester, NY called The Bop Shop, which, according to our young cousin Nick, who lives in Rochester and is somewhat of a music maven, is "sweeeeet." Their score at the Mystery Spot: Dr. John's Gumbo ($20., minty-mint) and a jazz record I can't quite make out from the photo (Norman Blake, Vassar Clements, et. al.).