It's always a mystery when we open the doors of The Spot for the weekend because we never know who's going to enter our little world. This past weekend brought us a mix of old friends, fun new customers, an actress, a television personality and a crossword wunderkind.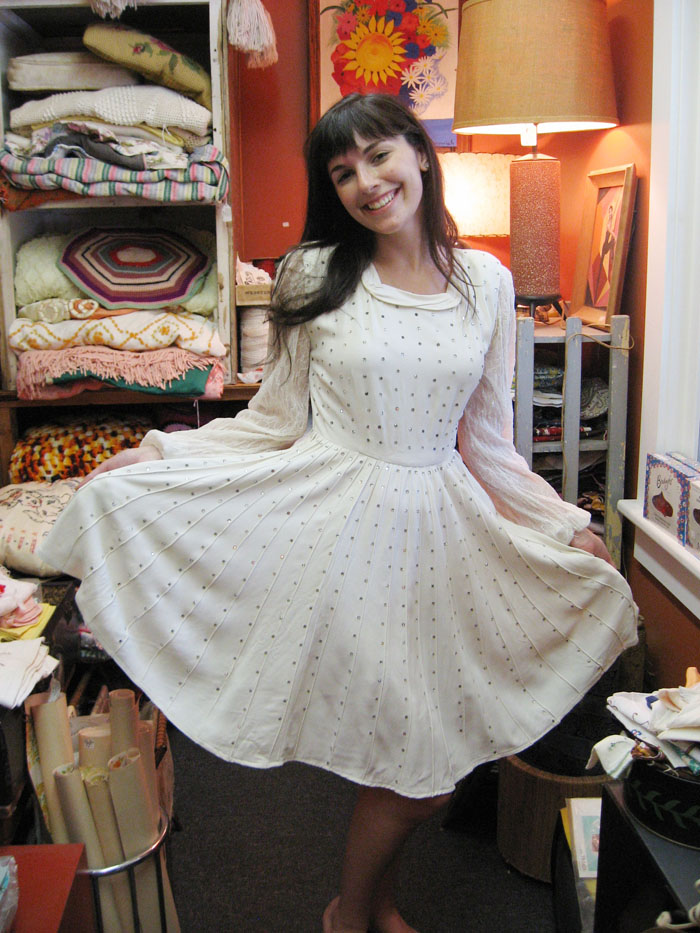 This lovely lass is Lauren Messing, a young actress who you'll be able to see this summer in The Electroscheme. She studies acting at NYU (as once did her delightful cousin, Will & Grace's Debra Messing).  Lauren declared this vintage Fifties white rayon crepe spinworthy dancing dress so laden with rhinestones it has a life of its own ($100.). was the dress she had to have, and we  found it hard to disagree.
So the next time you spot a sparkling vision in white gliding up the red carpet at the Emmys or Oscars, take a close look – it may very well be Lauren, in her stunning new dress.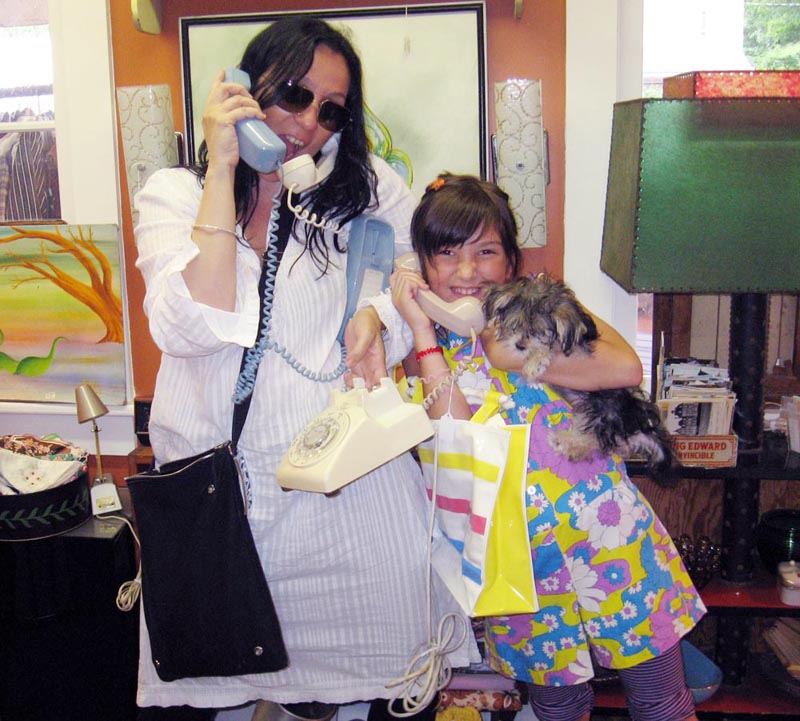 We suspect that Kelly Cutrone and Ava Cutrone fall under the classification of a Force of Nature. They burst into the Mystery Spot with a wave of energy and  fun and had us on the floor laughing for half an hour. It took us a while before we even realized that Kelly is a world-famous publicist (People's Revolution), TV star (MTV's The Hills and The City, Bravo's Kell on Earth) and best-selling author; and Ava, well, she may only be eight but she's well on her way to greatness as well.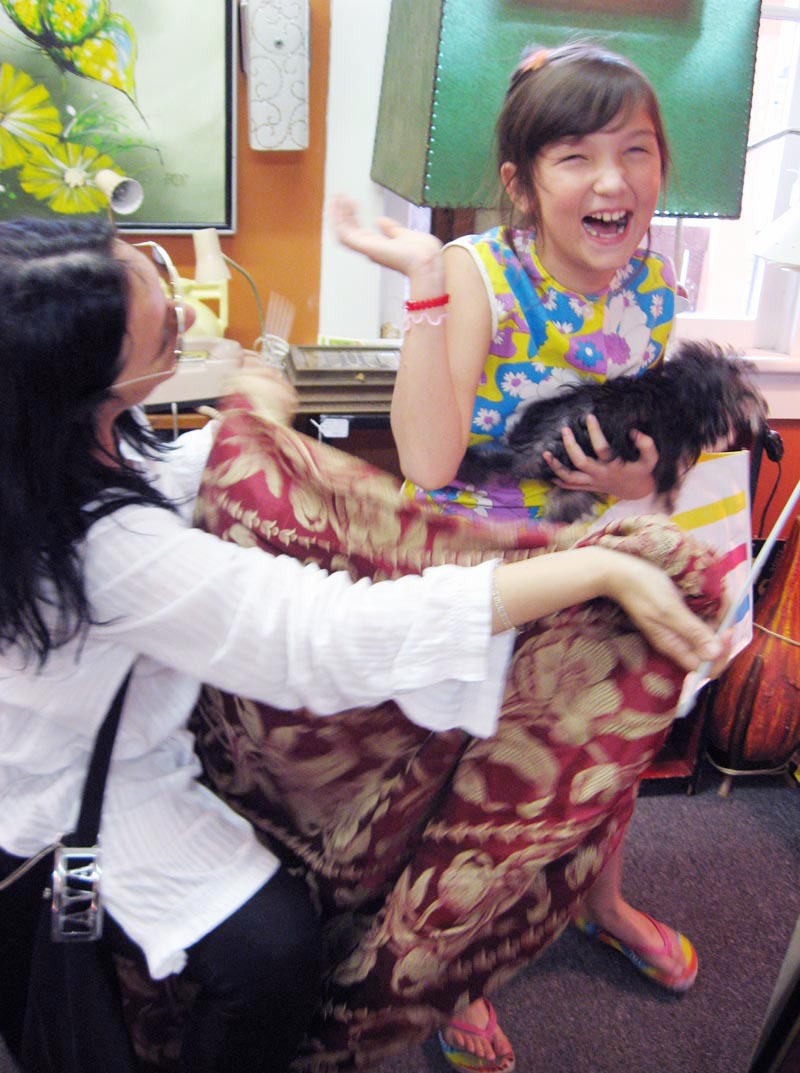 Of course, they didn't come just to entertain us – they came to shop! And so they did – check out Ava's killer mod 60's flower power culotte romper ($20.) and NOS 60's "Celebrity" Miami Beach striped vinyl tote ($20). – just perfect as a carry-all for her new puppy Lola. (And waterproof! A feature which came in handy about 3 minutes after this photo was taken).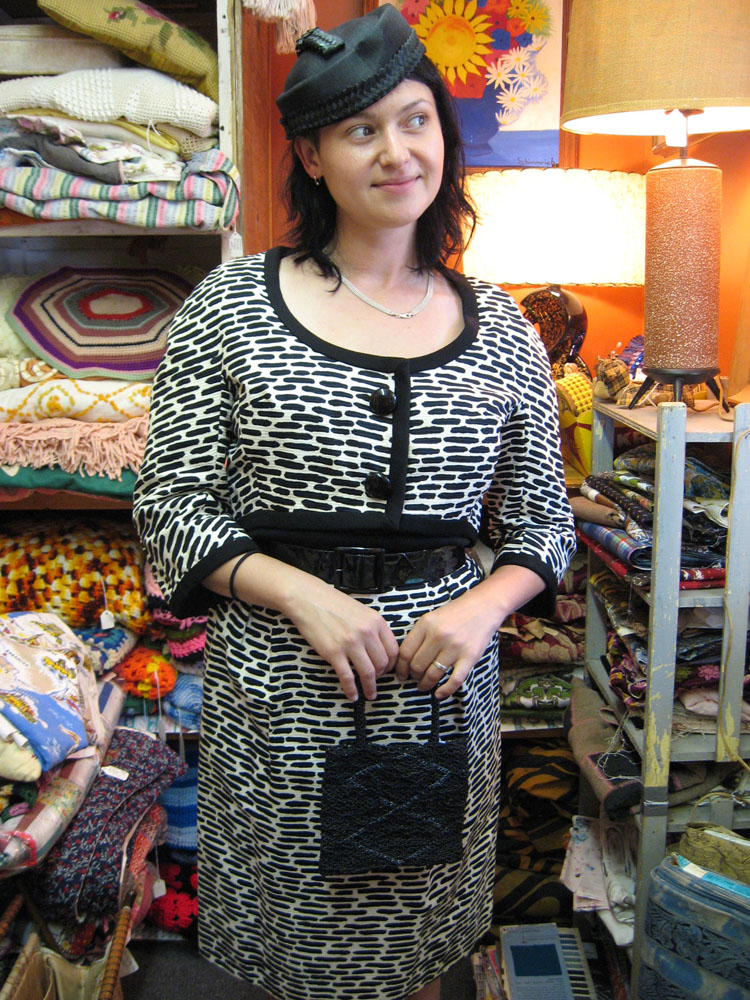 Liz Pulos is a dear customer friend. She started out as a loyal Spot customer (and still is!), but she is now officially a Friend. And we couldn't be happier! When people plan their trips months ahead just to come visit the Mystery Spot, we know we're onto something good. Liz, Donny and their other friend Liz spent the better part of their vacation weekend here in the shop, and everyone emerged a winner.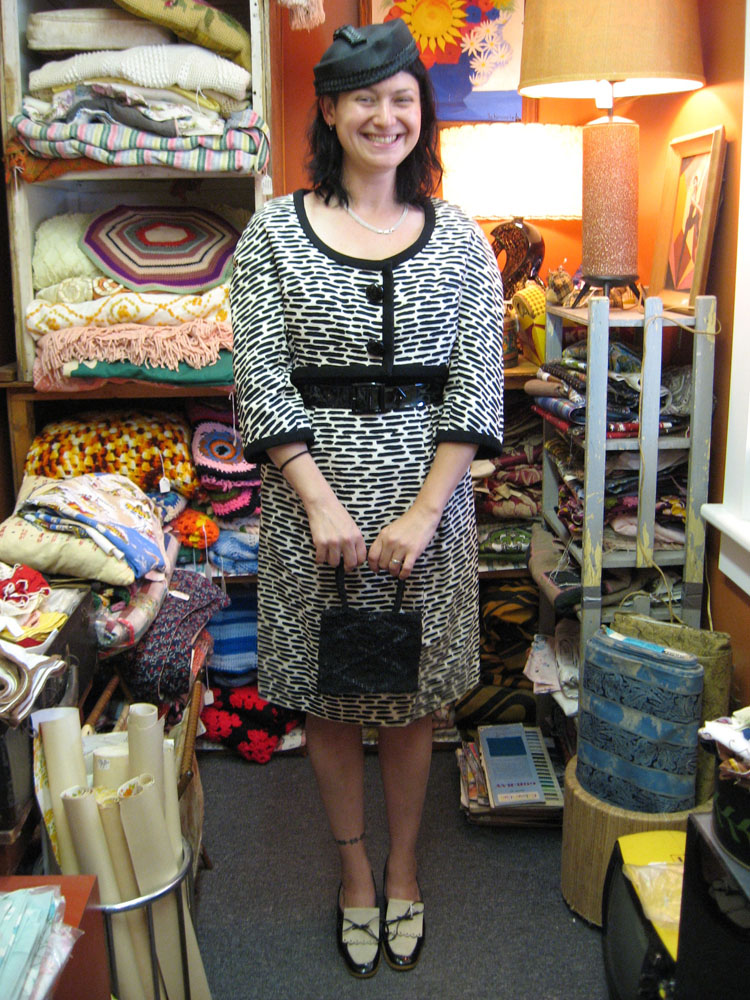 Liz didn't buy this 60s Mad Men Style black-and-white striped NOS ensemble (cocktail dress underneath; bolero jacket on top – $65), but it looked so great on her we just had to take the photos. Don't you love the hat, purse, and two-toned shoes she picked out?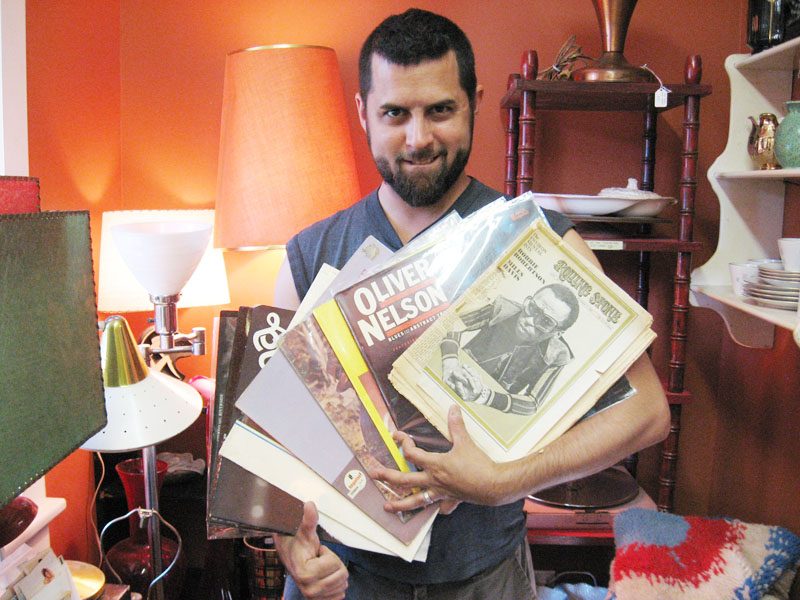 Liz's husband Don Undeen went (natch) straight to the record room where he loaded up on some killer jazz vinyl as well as a 1971 copy of Rolling Stone with Miles Davis on the cover ($15.)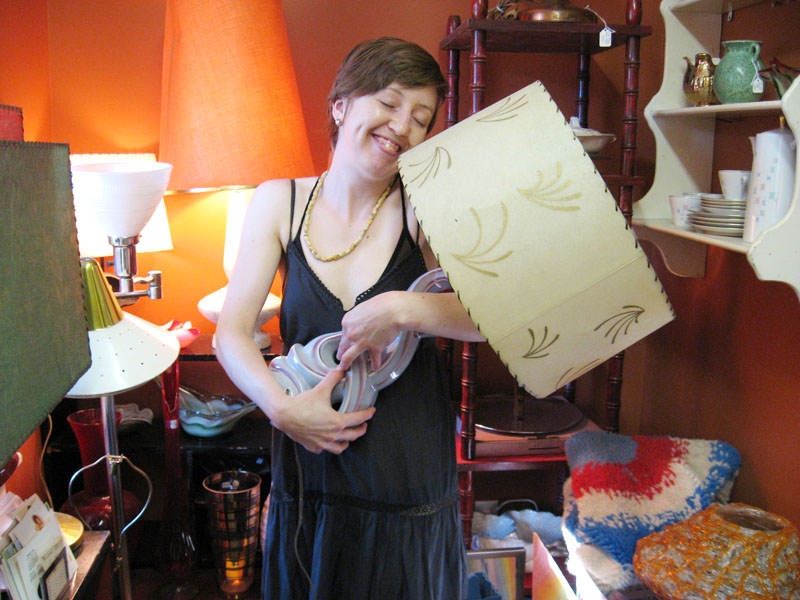 Their friend Liz Linstrom was on a lamp quest, and she was most successful! As Liz and this 1950s abstract mauve ceramic lamp with fiberglass shade ($68.) lamp are united for the first time, you can feel the love in the air.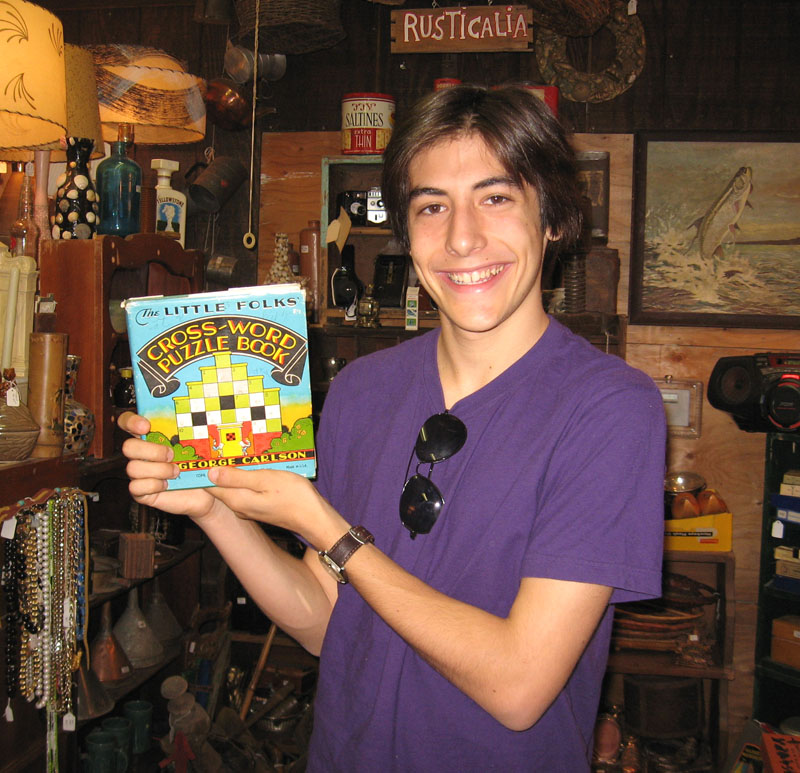 But really, did anyone charm us as much as young Caleb Madison? He asked if we had any old crossword items, and our brain churned a bit and then immediately recovered the latitude and longitude of The Little Folks Cross-Word Puzzle Book circa 1949 ($14.)  which has been suffering in obscurity for at least 8 years in the back of the book room, just waiting for someone like Caleb to come along and rescue it. Caleb was thrilled, we were thrilled, and we suspect Will Shortz will be thrilled as well when he opens his Christmas presents this winter. (Shhh….!)
Caleb is a pretty modest fellow, but we were able to get him to spill that he's the  youngest person to ever have a crossword published in the New York Times Sunday Magazine, at a mere fifteen. (He's all of seventeen now). And we have some crossword pals in common (shout-out to Andrea Carla Michaels! When are you coming to visit my shop already???)